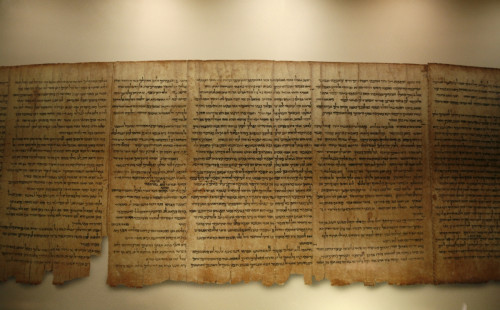 The Israeli Antiquities Authority (IAA) has upgraded the digital archive of Dead Sea Scrolls with thousands of high-quality images of ancient text accompanied by translations.
The Authority has said the latest revamp of the Leon Levy Dead Sea Scrolls Digital Library will allow users to view the images in "unprecedented quality".
More than 10,000 photographs of the scrolls, which were found in caves at Qumran in the Judean Desert, have been uploaded as part of the overhaul.
"Dead Sea Scrolls scholars, as well as the general public, will now be able to view, explore, and examine one of the greatest archaeological discoveries of the 20th century on their personal computers and even on their cellular phones," a press release from the IAA said.
"Through international collaboration, a unique monitoring system for the conservation of the scrolls was developed, using the multi-spectral images. The monitoring system will ensure the scrolls are properly preserved and kept in optimal conditions that simulate those in the Judean Desert caves, where the scrolls survived for over 2,000 years."
Specials cameras have been designed exclusively for photographing the scrolls, which were rendered by multi-special photographic methods.
Only five expert curators are permitted to handle those historically ancient documents. More than half-a-million people from across the world have visited the website since its launch a year ago.
The IAA is looking to work with other international organisations to add more features including translations into other languages.
"The next versions of the website will also include additional images, tools for scholars, conservation data, content pages in additional languages, as well as advanced and multiple search options," the IAA said.
Currently the site is available in English, German, Arabic and Hebrew versions.
The first set of scrolls was discovered in 1947. The manuscripts, which shed light into key aspects of Judaism, origin of Christianity and the birth of Bible, are thought to be either written or collected by Jews who fled Jerusalem two millennia ago.
The 900-odd texts are preserved in a temperature and pressure-controlled environment.