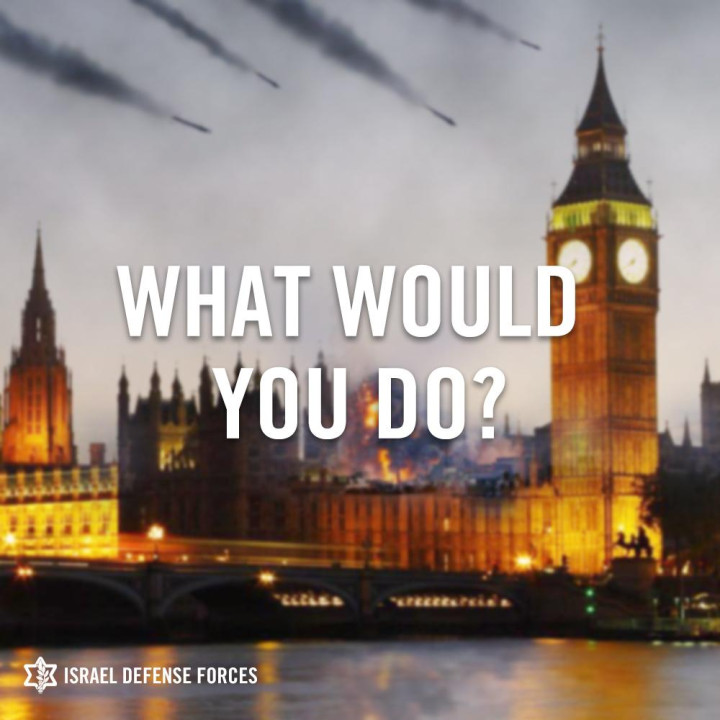 The Israeli military has taken to Twitter to defend its recent rocket assault on the Palestinian Gaza Strip.
The Israel Defence Forces (IDF) account tweeted a doctored photograph of the Houses of Parliament being attacked by a barrage of missiles bearing the question "what would you do?" in bold lettering.
The phososhopped image, which was published on Monday on the official Twitter feed, shows four rockets soaring over the Thames and heading for the Palace of Westminster. A burning building can be seen shooting plumes of smoke and flames into the air.
In the same tweet, the IDF writes: "Hamas terrorists just fired rockets at southern and central Israel. What if they were attacking your home?"
The tweet comes in response to criticism of Israel's current ground attacks on the Gaza Strip. Israeli leaders say the operation is necessary to stop Hamas rocket fire from the territory, but there have been accusations that military chiefs are using excessive force.
The death toll during the two-week ongoing conflict today reached 500. The vast majority of the casualties are Palestinian and a large number are believed to be children.
Andy Slaughter, a Labour MP and secretary of the Britain-Palestine All-Party Parliamentary Group, said of the image: "It seems crass at best. The Israelis are past masters at propaganda. This will bring it home to Members that they have lost all sense of perspective and are out of control."
However James Clappison MP, Parliamentary Chairman of the Conservative Friends of Israel group, supported the tactic by saying: "For a long time rockets have been fired into Israel and that hasn't been reported. We would not permit rockets to be fired at our country. We would take action."