As the violence in Israel and the Gaza Strip escalates, militants in Gaza have fired rockets at the Israeli cities of Tel Aviv, Jerusalem and Haifa. Meanwhile Israel has struck more than 150 targets in Gaza, killing at least 15 people according to the Palestinians.
This evening television footage has shown a rocket being intercepted in midair by Israel's Iron Dome anti-missile system before it could reach Tel Aviv. According to Israel's Jerusalem Post two rockets have now been intercepted, with no casualties reported on the ground. However the Home Front Command has ordered Tel Aviv Municipality to open bomb shelters in the city.
Explosions were heard in Jerusalem but police spokesman Micky Rosenfeld said the two rockets landed just outside the city. There was an explosion near the Kibbutz of Kerem Shalom and residents were warned to stay inside after reports of "infiltrators" from Gaza.
Earlier five suspected Hamas militants were killed by the IDF as they attempted to land near an army base on Zikim beach. Sirens have sounded across Israel all day as long-range rockets were fired from the Gaza strip. Islamic Jihad and Hamas are claiming responsibility for launching the missiles. Meanwhile Israel has launched bombing attacks into Gaza, striking around 150 targets. Palestinians are claiming at least 15 deaths so far as a result of those attacks.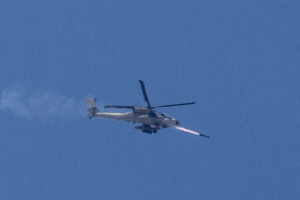 Among those killed were Hamas militants including Mohammed Shaaban but two teenage boys were also killed in an attack on a Hamas leader in Khan Younis. Hamas called the attack a "horrendous war crime".
As part of Operation Protective Edge, up to 40,000 reserves are being called up by the Israeli defence Force (IDF) to the Gaza border amid fears of an invasion. Tensions have increased radically in recent weeks following the murder of three Israeli teenagers and the revenge murder of a Palestinian boy. Hamas, which is in a power-sharing government with Fatah, says all Israelis are considered targets. Palestinian Authority President Mahmoud Abbas has appealed for calm but demanded that Israel stop its bombardment of Gaza.