Israel's military have bombed two locations in the Gaza Strip, with the Palestinian Health Ministry saying they have injured 25 people after a "Day of Rage".
The Israel Defence Force (IDF) say they bombed two targets - which they claim were a Hamas military training compound and an ammunition warehouse - in response to two rocket launches at Israel.
The Palestinian Health Ministry issued a statement saying that six children were amongst the injured, while witnesses told Reuters most of the wounded were residents leaving close to the training camp.
Reports from Israel say the state-of-the-art Iron Dome defence system intercepted one rocket fired from the Gaza Strip, in the worst violence since Donald Trump's decision to declare Jerusalem the capital of Israel.
A second rocket landed in the city of Sderot in Israel's south, a spokesperson for Sderot reported, according to the Jerusalem Post, causing no casualties.
The official IDF Twitter account said they hold Hamas, the Palestinian militants controlling Gaza, "solely responsible for all hostile acts against Israel emanating from the Gaza Strip".
"In response to the projectiles fired at Israel from Gaza earlier today, IAF aircraft targeted a Hamas training compound & an ammunition warehouse in the Gaza Strip," they tweeted.
"The IDF holds Hamas solely responsible for all hostile acts against Israel emanating from the Gaza".
Earlier on Friday (8 December) at least two Palestinian men were killed in clashes with Israeli troops in a "Day of Rage" against President Trump's recognition of Jerusalem as Israel's capital.
Reuters reported that Israeli soldiers shot dead a Palestinian man near the Gaza border and a second person later died of their wounds after clashes.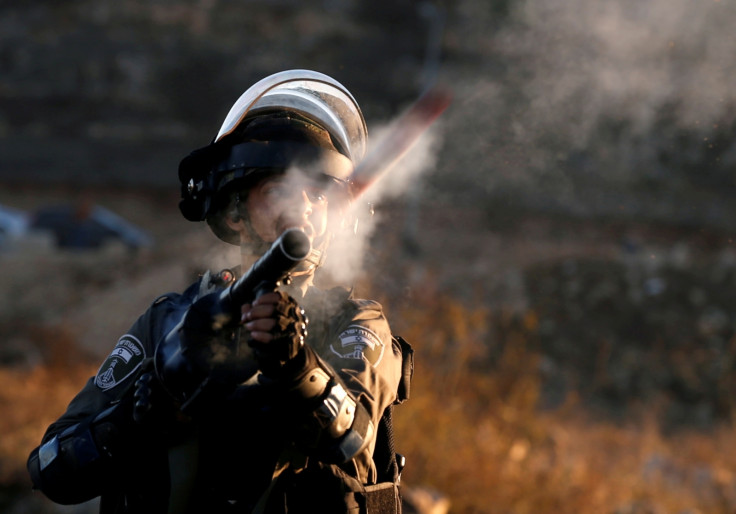 At least 81 Palestinians have been injured, according to the Palestinian Red Crescent ambulance service, with protesters burning Israeli and US flags and treading on Trump posters.
The Associated Press (AP) reported that Hamas leader Ismail Haniyeh called for Palestine to rise up against Israel, before the days violence.
"The American decision is an aggression on our people and a war on our sanctuaries," he said. "We want the uprising to last and continue to let Trump and the occupation regret this decision."
A highly-controversial issue avoided by consecutive US governments, Palestinians consider Jerusalem a holy place and hope East Jerusalem will one day become their capital in the future.