A new mural has popped up on the Bethlehem wall in the occupied West Bank showing US President Donald Trump sharing a kiss with Israeli Prime Minister Benjamin Netanyahu.
The artist reportedly said he wanted to highlight the plight of Palestinian people stuck in "an indoor prison", referring to Israel's West Bank fence-and-concrete barrier, which Palestinians believe is the Israeli government's way of grabbing their land and denying them a free state.
The mural that is drawing crowds from the city is believed to be the work of Australian graffiti artist Lushsux. He has also created other murals on the barrier — one shows Trump kissing an Israeli watchtower while another shows him placing his hand on the barrier and thinking about building a similar structure on the US border with Mexico.
"The wall is a message in itself," the artist hiding his face in a headdress, told Reuters. "I don't need to write 'Free Palestine' or something like that, something really direct ... that people will ignore.
"I just paint what I usually paint and maybe people will start looking at the background and looking at the razor wire and looking at people stuck in here, and maybe that'll work better," he added.
The painting also shows Netayahu thanking Trump for the barrier, calling him "Trumpy Pumpkin" while Trump responds saying: "You will always come first my love".
The total length of the barrier is 708km, but it is yet to be completed. As of 2012, 440km of the border wall had been completed, 57km was under construction and 212km remained untouched.
The Israeli government claimed that building the barrier had helped bring down cases of suicide bombings carried out from the West Bank. However, the International Court of Justice called the barrier a violation of international law, and the United Nations General Assembly adopted a resolution that condemned the building of the structure.
Of late, the wall has become a platform for protests by pro-Palestinians who use it to convey their anger and messages.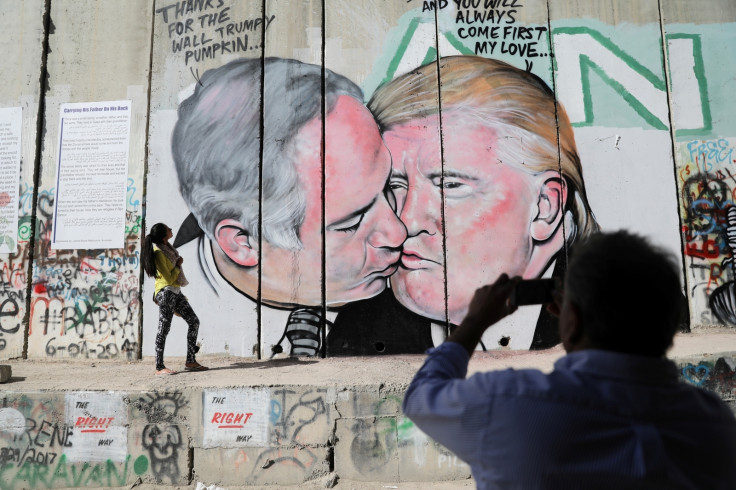 Meanwhile, this is not the first occasion when Trump's bromance with another international leader caught an artist's imagination. Amid rumours Russia was helping the then Republican presidential candidate Trump win the 2016 US presidential election, a mural in Lithuania went viral showing him kissing Russian President Vladimir Putin.
During increased tensions between Trump and North Korean leader Kim Jong-in, two lookalikes of the leaders were seen wandering the streets of Hong Kong earlier in January this year. They were even spotted trying to kiss each other to mock the not-so-friendly equation between the two.