Israel has attacked Hezbollah terrorists in the Syrian-controlled section of the Golan Heights near Quneitra, close to the border.
Israel's IDF wouldn't comment on foreign news reports, however AFP quoted an Israeli source who said terrorists had been planning an attack on Israel.
Hezbollah's television station Al-Manar TV admitted the attack took place and that several fighters had been killed in Quneitra province "during a field reconnaissance mission."
Al-Manar said the names of those killed would be released once families had been informed. Local reports have named one of those killed as Jihad Mughniyeh, a senior local commander and son of former top militant Imad Mughniyah, who was himself assassinated by a car bomb in Damascus in 2008.
Lebanese news portal el-Nashra said: "An Israeli helicopter fired two missiles on Amal Farms in Quneitra."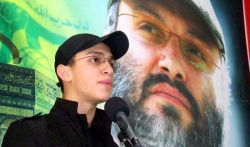 The British-based Syrian Observatory for Human Rights quoted local sources as saying Israeli missiles were aimed at armoured vehicles. It did not know if the vehicles belonged to the Syrian army, Hezbollah or anti-Assad militants. Reconnaissance drones were seen overhead during the attack.
Israel and Syria have officially been in a state of war since 1967 and Israel's occupation of the Heights is not recognised by the international community.
There have been a number of skirmishes in recent months. In September 2014 Israel downed a Syrian jet. In August 2014, five missiles were fired at Israel from the Syrian sector. In July 2014, a Syrian rocket hit Israel, who then responded with missiles.
In December 2014, Syrian TV reported that Israel had attacked targets close to Damascus International Airport and around the town of Dimas. An Israeli drone was also reported shot down by Syria last month.
Hezbollah and Israel fought a 34-day conflict in 2006. Backed by Iran and based in Lebanon, Hezbollah supports the government of President Bashar al-Assad.