It doesn't matter where Boko Haram leader Abubakar Shekau is - this is all just a distraction for the Isis proxy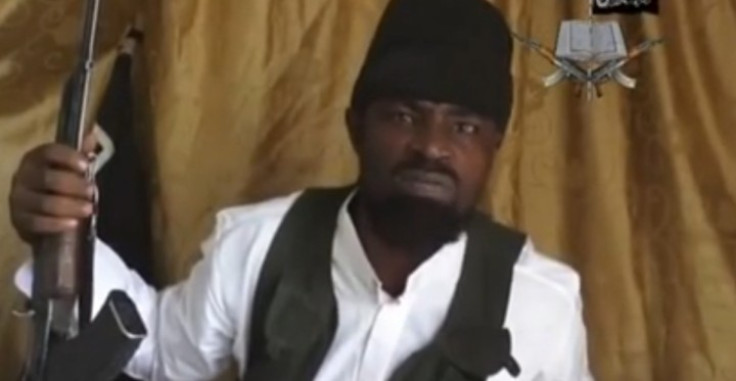 Boko Haram is shrouded in mystery. From its ability to successfully hide large numbers of hostages, to the magnetic appeal of its disturbing leader, to its metamorphosis into the Islamic State's official province in West Africa.
Yet what the world sees of Boko Haram is the tiniest portion of its immense activities. Boko Haram's latest video release last week, entitled Arrivals of the Soldiers of the Caliphate in West Africa – Wilāyat Gharb Ifiqiyyah has left us all guessing. The absence of Shekau from the video fuelled speculation about his whereabouts.
Speculation ranged from Shekau being dead (yes, for the third time by TRAC's count); to proof that Boko Haram is in complete disarray; to Shekau wounded, on the run and in hiding. Truth be told, no one really knows where he is or why he has not taken his usual "front and centre" place on stage.
There are, however, some plausible arguments to bring sanity to this speculation and, much more importantly, Boko Haram is clearly taking a page from the Islamic State's playbook: diversion.
Speculation about Boko Haram's leader has been circling for some time. In September 2014, photos were distributed showing a dead Shekau, killed by a bullet wound. The acclaimed success was quickly refuted by Shekau himself in appearances in Boko Haram videos.
If indeed Shekau had been killed during the recent offensives against the group, rest assured there would have been a media campaign by regional governments taking pride in the ultimate success against Boko Haram.
Successes against the group have been confined to Boko Haram fighters engaged in open combat; it is highly unlikely that Shekau would have been exposed to such confrontations. Even reported successes in exposing Boko Haram camps at Sambisa forest yielded little information about the presence of Boko Haram leaders.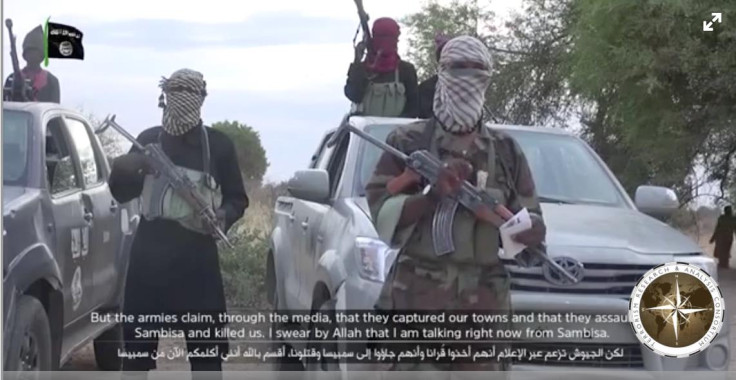 The Latest Video
The closest we get to answering the question of where Shekau is lies in last week's video release. Featuring testimonials, battles, executions, and even a downed Nigerian fighter jet, this video has it all in terms of fan-loving topics covered.
But this video stands out for more reasons than merely Shekau's absence or topics covered. First and foremost, this is Boko Haram's first release as the official Islamic State Wilayat (Province) the self-procalimed Wilayat West Africa, more than merely suggesting that they cover and control much more territory than Boko Haram currently occupies.
Secondly, the video was translated into both English and Arabic subtitles, indicating that their audience has expanded from just the Kanuri dialect. Lastly, in the final scene where Boko Haram shows off its latest conquest, the downing of a fighter jet, Boko Haram for the first time goes beyond solely threatening Nigeria, Chad and Cameroon. In this video, the list of nations threatened is international (United States, France, Isreal, Nigeria, Cameroon) not regional.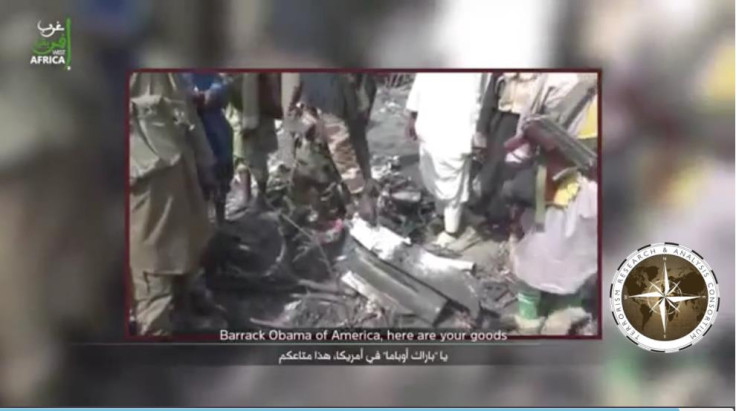 Sleight of Hand
Roughly halfway through the video, before the scenes of executions, we see a narrator talking about how Boko Haram is as, strong as ever, so much so that the group is still present in Sambisa Forest:
"Most of our territory is still under our control Including Dikwa, Gamborou, Damasak, and other places. Here, in Sambisa, you can travel more than four to five hours under the black flag of Islam by car or motorbike."
The narrator is not referring to the high number of Boko Haram fighters killed in open combat; these are losses that even Boko Haram cannot deny.
Dikwa, Gamborou, and Damasak are all areas that have seen clashes with regional forces, yet, notice what is absent from the narrator's tale. Neither Maiduguri nor Yola are mentioned at all by the narrator: these areas have recently witnessed a series of suicide bombings as well as the bulk of the heavy fighting.
The narrator emphasises that he is located in the Sambisa forest. This is not just boasting of their presence; this is bait to keep the audience's attention on Sambisa forest. The "sleight of hand" here is intentional: focus on Sambisa to divert attention away from Maiduguri, the real target. Boko Haram is using distraction in its propaganda as a tool to divert and spread regional forces' attention.
Sound familiar? Well it should, because this is a tried and true tactic of the Islamic State.
Isis recently, and with great success, captured Ramadi in Iraq. All the while IS propaganda was redirecting attention to attacks in Baghdad, Fallujah, and the Baiji oil Fields, rerouting attention away from their real target.
Boko Haram has been mimicking Isis battlefield tactics and use of social networks for quite some time, and now the group is adopting yet another IS strategy: introducing misdirected propaganda as a diversionary tactic.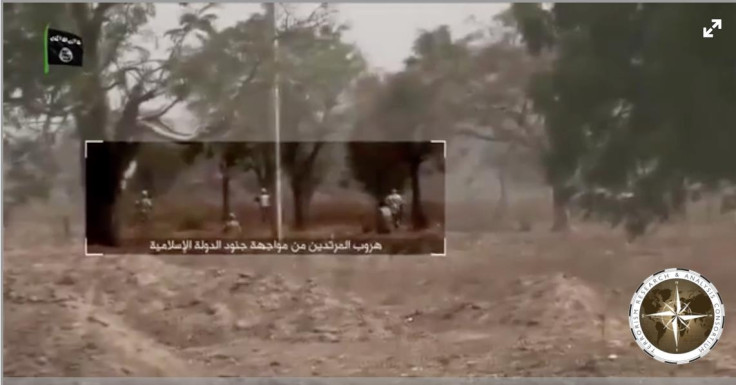 Back to Shekau
How does all of the above relate to Shekau? Simple. He is Boko Haram's ultimate tool of deception.
Not knowing if Shekau is dead or alive means no one can claim the ultimate prize of a defeated Boko Haram. Irrespective of the relevance of Shekau and the future of Boko Haram, what he represents as well as any symbolism attached to his death will matter to those fighting the group.
Shekau is feared by thousands, millions of people; he is Lord Voldemort. His legend of being beyond psychopathic, a monster, a mad man, a leader with a passion to kill precedes his presence anywhere at any point in time.
Not knowing if Shekau is dead or alive is weakening and diverting support to those opposed to him. Additionally, Islamic State almost never shows their leaders, it helps swell the public's image of them, making them larger than life, super human. In this sense Boko Haram is taking another Isis propaganda technique.
The hunt continues, and if no one knows where to look, it will remain a scramble across Northeastern Nigeria, the border areas of Cameroon, Chad, Niger, stretching to Libya and maybe even Mosul. Limiting exposure of their leader in film and photos equates to giving Boko Haram's cell structures a breather, and a moment's attention diverted allows unexpected brutal attacks.
Is Shekau alive? It doesn't matter – his myth is the decoy that Boko Haram needs.
Veryan Khan and Jasmine Opperman are senior directors for the Terrorism Research & Analysis Consortium (TRAC), one of the world's largest electronic compendiums for data and analysis of terrorist groups, activities, trends and up to date developments. By subscription, TRAC serves corporations, governments and military, universities, the media, and professionals. For complete information see www.trackingterrorism.org or follow the group on Twitter @TRACterrorism.
.
© Copyright IBTimes 2023. All rights reserved.