Witnesses have described the horror scenes that unfolded after gunman Stephen Paddock opened fire at an open-air country music concert in Las Vegas on Sunday night (1 October).
Firing hundreds of rounds from the 32nd floor of the Mandalay Bay hotel, Paddock carried out the deadliest mass shooting in modern US history, killing at least 58 people and injuring more than 400.
Country music singer Jason Aldean was starting his set when Paddock began firing. He continued playing for three rounds of gunfire before running off the stage.
"It sounded like something was wrong with the speakers," William Walker told The Guardian. "Jason Aldean kept playing through three rounds of it. Then once he stopped everyone took it more seriously...I started kicking down fences to take shelter behind the buildings."
At first concertgoers thought the gunfire noise came from a fireworks display, but when bodies fell to the ground, panic broke out and thousands ran for cover, hiding under parked cars and behind concession stands.
"It was hysteria," Jackie Hoffing told local reporters. "There were people trampled. We jumped walls, climbed cars, ran for our lives. I've never run that hard or been that scared in my whole life."
Emily Anderson from San Diego told The Guardian: "I saw a lady get hit in the leg and her boyfriend dragging her out and everyone was running. It was chaos."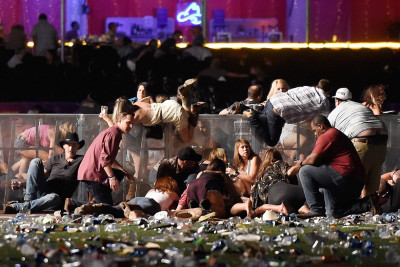 Witnesses described seeing bodies everywhere, with people falling down around them. One woman, identified only as Emily, told local TV station KLAS that someone standing next to her was shot.
"I heard what we thought was firecrackers, and we looked to the right of us and there was a woman down covered in blood," she said. "From that point on we just ran. We hid wherever we could, and now we're in an airplane hangar.
"We had no idea, it was just rapid fire. We all thought we were dead. It was awful. It just kept going, and going and going."
Sheriff Joe Lombardo said police had no information on Paddock's motives. "We have no idea what his belief system was," he said.
Paddock's brother, Eric, said the entire family was "dumbfounded."
"He was just a guy. Something happened, he snapped or something. We know absolutely nothing ..., he said. "He has no political affiliation, no religious affiliation, as far as we know. This wasn't a terror attack."
Hours after the attack, Isis claimed responsibility for the mass shooting, describing Paddock as a "soldier of the Islamic state." Anti-terrorism described the claim as "desperate".