Is it right for George Osborne to earn £13,500 a day from BlackRock while he's still an MP?
Former chancellor will pick up £650,000 a year from the finance giant while still an MP.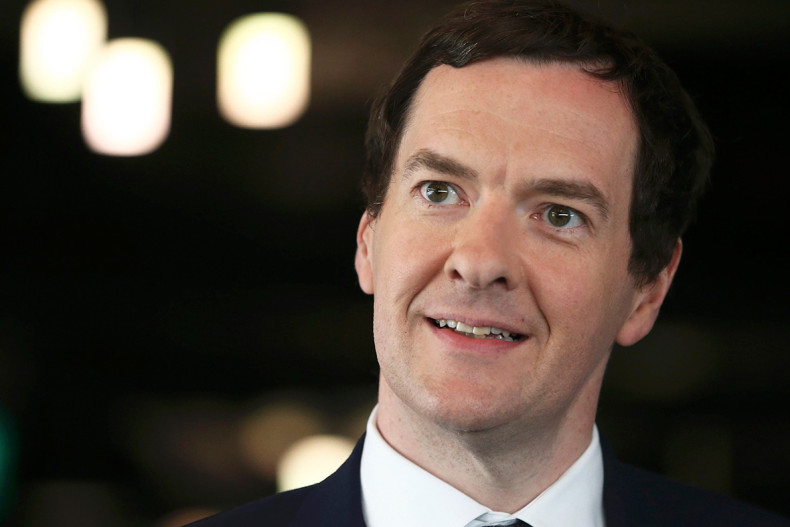 Britain is still living through its Age of Austerity as the government tries to close its budget deficit by slashing away at public spending.
But it's boom time for former chancellor George Osborne, the architect of British austerity who ran the country's finances between 2010 and 2016.
Working just four days a month as an adviser to financial giant Blackrock, Osborne will earn £650,000 a year — or £13,500 a day.
And that's on top of all the other 'extracurricular' work he does giving speeches – which has netted him more than £700,000 since he left the cabinet in September 2016, according to Parliament's register of interest - as well as his £75,000 salary as MP for Tatton.
But is it right that Osborne earns all this while he's an MP? Osborne's political career has given him a lot of significant experience and expertise, which is useful to the outside world, and very lucrative for him.
He's still, however, an MP with commitments to his constituents. There has long been a debate about whether or not MPs should have second jobs or big outside interests when their day job is so important and demanding.
Perhaps more importantly, he has access and connections to the Treasury that are very valuable to big financial firms especially. Lobbying rules are strict and it's not part of Osborne's role as an adviser to Blackrock on the global economy.
But there's still an ethical question mark about whether it's right for him to advise them given how recently he left the Treasury. What do you think? Vote in our poll.
From parliament's register of interests, here's what Osborne has declared since being replaced by Philip Hammond as chancellor.
Osborne, Mr George (Tatton)
1. Employment and earnings
Payment of £69,992 expected from The Securities Industry and Financial Markets Association (SIFMA), 1101 New York Avenue, 8th Floor, NW Washington DC 20005, in return for a speech. Hours: 1.5 hrs in total, on 27 September and 18 October 2016. Travel and accommodation also provided. (Registered 25 October 2016)
Expected payment of £28,454.40 for a speech on 17 October 2016 from the Hoover Institution, Stanford University, Stanford CA94305, USA. Accommodation also provided. Hours: 3 hrs. (Registered 26 October 2016)
Payments of £81,174 and £60,578 expected from JP Morgan, 270 Park Avenue, New York USA, for giving two speeches, on 4 and 5 October 2016. Hours: 7 hrs in total. Travel and accommodation also provided. (Registered 02 November 2016)
Speaking engagements via the Washington Speakers' Bureau, 1663 Prince Street, Alexandria, VA 22314: Payment of £80,240.16 expected from Palmex Derivatives, 125 Old Broad Street, 25th Floor, London EC2N 1AR for a speech in New York on 27 October 2016. Hours: 2 hrs. Travel and accommodation also provided. (Registered 16 November 2016)
Payment of £85,396.24 expected from Citi, 33 Canada Square, London E14 5LB, for giving two speeches on 17 November 2016. Transport also provided. Hours: 3 hrs. (Registered 28 November 2016)
Payment of £34,109.14 expected from Black Rock Financial Inc, 40 East 52nd St, New York NY 10022, for giving a speech on 15 November 2016. Travel and accommodation also provided. Hours: 1 hr. (Registered 28 November 2016)
Payment of £68,125.35 expected from Centerbridge Partners LP, 375 Park Avenue 12, New York NY 10152, for giving a speech on 10 November 2016. Travel and accommodation also provided. Hours: 2 hrs. (Registered 28 November 2016)
Payment of £51,328.50 expected from Aberdeen Asset Management, Bow Bells House, 1 Bread St, London EC4M 9HH for giving a speech on 22 November 2016. Travel also provided. Hours: 1 hr. (Registered 15 December 2016)
Payment of £68,493.15 expected from ITP Publishing Ltd, ITP Building #14, Dubai Media City, PO Box 500024, Dubai, UAE, for giving a speech on 28 November 2016. Flights, accommodation and transfers also provided. Hours: 3 hrs. (Registered 15 December 2016)
Payment of £51,829.26 expected from HSBC, 8 Canada Square, Level 42, London E14 5HQ, for giving a speech on 18 January 2017. Accommodation and travel also provided. Hours: 2 hrs. (Registered 06 February 2017)
Payment of £40,567 expected from St James's Wealth Management, St James's Place house, 1 Tetbury Road, Cirencester GL7 1FP, for giving a speech on 27 January 2017. Hours: 3 hrs. (Registered 06 February 2017)
Payment of £51,082 expected from VOKA (Flanders Chamber of Commerce and Industry) Markgravestraat 12 Antwerpen 2000, Belgium, for giving a speech on 7 February 2017. Hours: 3.5 hrs. (Registered 23 February 2017)
Payment of £15,081 expected from Lloyds Bank International Ltd, 25 Gresham St, London EC2V 7HN for giving a speech on 6 February 2017. Hours: 3 hrs. The fee will be donated to a charity in my constituency. (Registered 23 February 2017)
From 1 February 2017, adviser on the global economy to The Blackrock Investment Institute, Drapers Gardens, 12 Throgmorton Avenue, London EC2N 2DL. I expect to be paid £162,500 a quarter in return for a quarterly commitment of 12 days. I also expect to receive registrable equity in BlackRock in the future. I consulted ACoBA about this role. (Registered 23 February 2017)