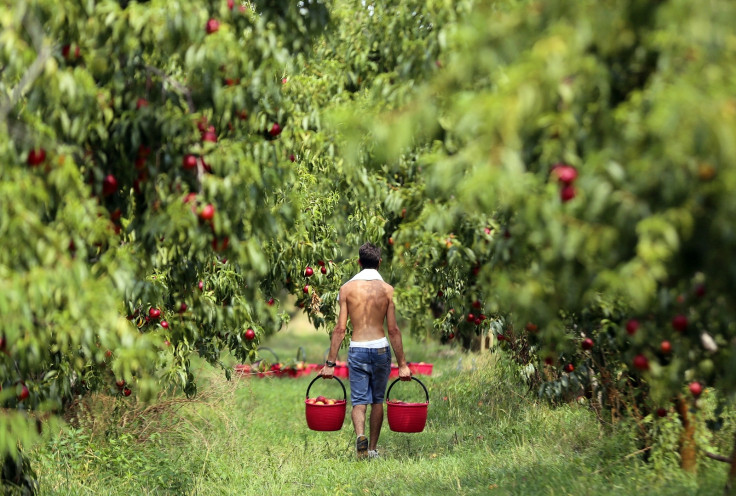 Police in Italy have arrested two farm owners over claims they paid labourers different wages based on the colour of their skin.
The two brothers, aged 41 and 48, now face charges of labour exploitation aggravated by racial discrimination.
The pair are alleged to have hired immigrants – mostly from Africa, India and Romania – to illegally work on their farm in Amantea, southern Italy.
Investigators said that all workers were paid criminally low wages, with white workers given €35 per day compared to the €25 handed to black farm workers.
They were also said to have been forced to sleep in huts and eat on the floor, as well as being regularly threatened.
Italy's Agricultural Minister Maurizio Martina said the allegations were "intolerable in every respect", La Repubblica reported.
He said Friday's arrests proved the necessity of a law passed last year in Italy designed to "protect the dignity and rights" of workers, who are often immigrants.
Police have seized €2m (£1.77m) of assets owned by the brothers as a result of the investigation. They are currently under house arrest.
Last autumn, the Italian parliament approved a new law to help crack down on the widespread exploitation of farm workers – a problem often affecting immigrants from Africa and South Asia in the south of Italy.
It came after several deaths on farms in the summer of 2015.
The new law introduced mandatory prison terms, fines and asset seizures for farm owners found to be involved in illegal practices.
It was hailed at the time as a "major step forward" by trade unions and activists, who were concerned the problem of exploitation had grown worse in recent years due to the arrival of tens of thousands of migrants in Italy.
They claim some 430,000 agricultural workers are subject to exploitation across the country, with some taking home little more than one euro an hour.