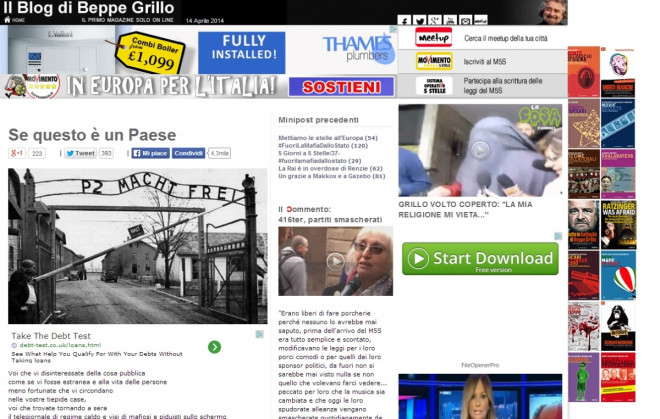 The flamboyant leader of Italy's 5-Star Movement political party has published an adapted version of Primo Levi's poem on the Holocaust and Auschwitz Se questo e' un uomo [If this is a man] to slam president Giorgio Napolitano and premier Matteo Renzi.
The parody, 'If this is a country' and "inspired" by Levi's milestone book on his incarceration at the Auschwitz concentration camp, has attracted harsh criticism of Beppe Grillo from Italy's Jewish community.
Renzo Gattegna, president of the Union of the Italian Jewish Communities called it a "vile provocation" aimed at "tickling dishonourable anti-Semitic sentiments and ride the popular discontent that is growing in these times of crisis".
The blog post was published with a picture of the notorious image of the gates of Auschwitz, replacing the slogan "Arbeit macht frei" (Work makes you free) with "P2 macht frei".
P2 is the Masonic lodge that plotted to overthrow the government and was implicated in numerous Italian crimes.
"It's impossible to stay silent over this obscenity. It's a criminal desecration of the value of memory and the memory of millions of innocent victims that offends the whole of Italy," said Gattegna.
The president of Rome's Jewish community Riccardo Pacifici suggested in 2013 that Italy's Jews should "start preparing slowly to move to Israel" because of the rise of Beppe Grillo's 5-star Movement.
"In Germany, they say he is just like Berlusconi. But Grillo says that political parties are not important, and that is exactly what Hitler was saying before he came to power," he said.