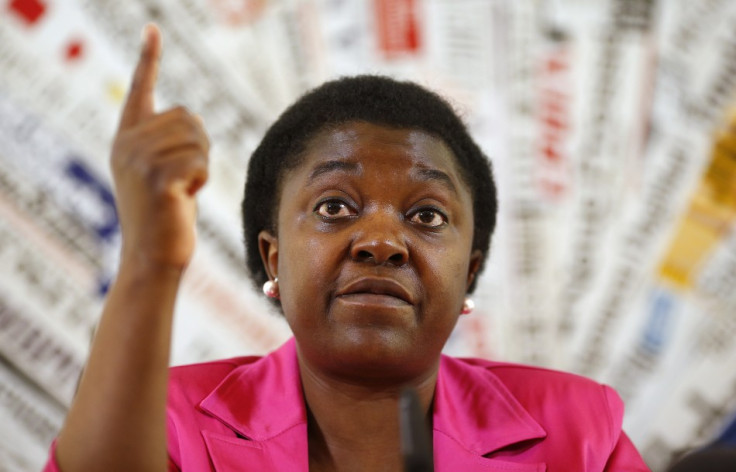 Italy's first black minister, Congo-born member of the European parliament (MEP) Cecile Kyenge, is not too pleased with the country's lawmakers who decided not to pursue racism charges against Roberto Calderoli, who in 2013 compared her to an orangutan. In a vote on 16 September, the Italian Senate ruled that Calderoli could not be punished under the country's constitution because elected representatives cannot be held liable for any opinion they express that falls under the purview of their work.
Kyenge held charge of Italy's integration ministry in 2013 when Calderoli made the alleged slur at a political rally. "I love animals, bears and wolves, as is known, but when I see the pictures of Kyenge I cannot but think of the features of an orangutan, even if I'm not saying she is one," he said. He went on to say that she would be better off working "in her own country," referring to Congo.
Members of Kyenge's own Democratic party (PD) voted against pursuing the charge against Calderoli. Riccardo Nuti, a member of the populist Five Star Movement in Italy, told the Guardian that members of the PD may have negotiated a barter with Calderoli's Northern League -- letting off Calderoli in exchange for removal of proposed amendments to a pivotal reform law currently being debated.
Disappointed over the vote, Kyenge said she would take her case against Calderoli to the European court of justice. According to AFP, her decision to pursue the case was not personal as Calderoli had already apologised for his comments, but a matter of principle. "The senate's decision throws a heavy shadow on the fight against racism, just when populism and xenophobia are growing because of the refugee crisis," she said.
The Kyenge case assumes added importance as Europe battles its worst-ever refugee crisis. Kyange has been criticised by xenophobic political factions in Italy because she has previously advocated citizenship rights to children born in Italy to immigrant parents.
Kyenge has in the past been subject to abuse due to her colour including an incident in which bananas were thrown at her as she gave a speech. In June 2013 an Italian female local councillor sparked outrage by saying Kyenge should be raped in order to understand what the heinous crime means.
Calderoli too has a history of controversial remarks. After the football World Cup final in 2006, he said Italy defeated France because the French national team was full of "negroes, Muslims and communists." In another headline-grabbing incident in 2006, Calderoli called on Benedict XVI to lead a crusade following the publication of Muhammad's cartoons by Jyllands-Posten.