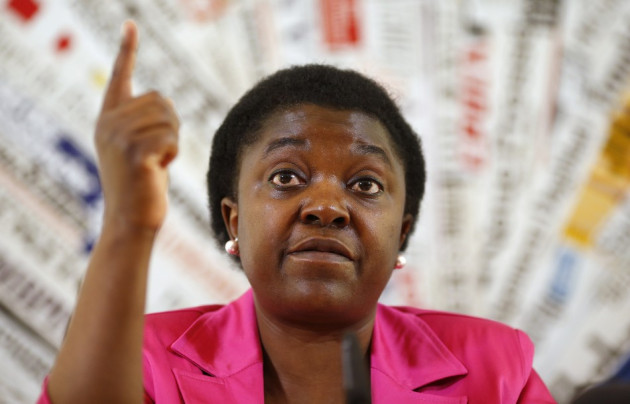 Italian senator Roberto Calderoli has apologised to the country's first black government minister for saying that she has "the features of an orangutan" but refused to call his comments a racist slur.
Congo-born Cécile Kyenge, an Italian citizen who is minister for integration in Enrico Letta's government, has faced daily racial threats since she was appointed in April.
Calderoli, vice-president of the Italian senate and a former minister under Silvio Berlusconi, told a rally of his right-wing Northern League party in Treviso that "when I see the pictures of Kyenge I cannot help but think of the features of an orangutan, even if I'm not saying she is one."
His remarks triggered outrage from all political parties, with Democratic party (PD) members Khalid Chaouki and Gianni Cuperlo calling for the resignation of Calderoli.
But the senator refuted accusations of racism by saying that his comments were only "aesthetic remarks".
"I recognise that it was an unfortunate joke. I apologise to the minister but I'm accustomed to comparing people to animals," he told daily La Repubblica.
"When I see Prime Minister Enrico Letta, with his long legs, I think of a heron. Angelino Alfano [minister of interior] resembles a frog while justice minister Anna Maria Cancellieri looks like a St. Bernard dog."
In an interview with daily Corriere della Sera, Kyenge said racism is a "threat to the country's international image".
"This is a moment to stop and reflect together on the image of Italy tomorrow," she said.
However, she stopped short of calling for Calderoli's resignation.
The senator is not the first politician to attack Kyenge. Mario Broghezio, a member of the European parliament for the Northern League, said that the minister wanted to "impose her tribal traditions from the Congo" and called Letta's coalition a "bongo bongo" government, adding: "she seems like a great housekeeper but not a government minister."
In June another councillor for the right-wing party suggested on Facebook that Kyenge should be raped. She was later expelled from the party.