A 33-year-old man was found dead on Mont Blanc the highest peak in the French Alps on Sunday (12 June) after an attempt at wingsuit flying allegedly went wrong, mountain rescue services said. The victim was reported missing on 11 June and his body was found a day later at an altitude of 2,000 metres after hours of rescue and search efforts.
The unidentified man, believed to be an Italian, is believed to have jumped off from a height of 3,800 metres on Wednesday (8 June) from Aiguille du Midi peak – part of the Mont Blanc massif – a police spokesperson from the town of Chamonix told AFP.
The man had previously informed the police about his planned jump, but "no one was immediately concerned" of his whereabouts as he was jumping alone, police said. Mountain rescue services started searching for him on Saturday by helicopter and on foot, but were unable to locate him.
Rescue services finally managed to narrow down their search after speaking to his friends and acquiring more details on his jump, which was reportedly carried out in poor light and foggy conditions. The adventure sports enthusiast's body was finally discovered on Sunday.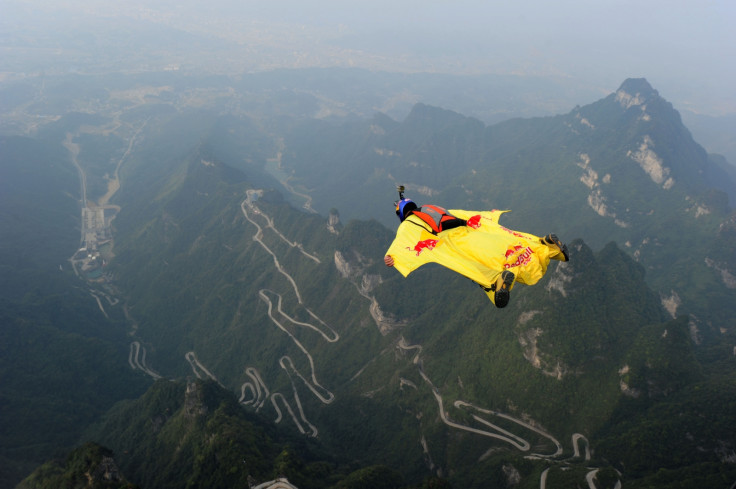 Wingsuit flying is on the most extreme sports in the world, wherein a flyer enters freefall wearing both a wing suit and parachute equipment. The average wingsuit jump lasts about a minute and within eight seconds the jumper reaches a speed of 200km (120 miles) per hour.
In October last year, American adventurer Johnny Strange died in the Swiss Alps in a similar attempt that went wrong. He crashed shortly after jumping from Mount Gitschen in central Switzerland.