An Italian councillor has been accused of requiring that his personal assistant sign a contract of employment that demanded she have sex with him at least once a week.
The 32-year-old assistant of Luigi De Fanis, 53, was required - by contract - to spend time with the central Abruzzo region's councillor for culture at least once a week and "make love," La Repubblica newspaper reported.
Due to the extra work load, the woman was reportedly entitled to a €36,000 wage on top of her yearly salary.
"The councillor was obsessed by me," the mother-of-one told detectives. "He forced me to sign it. I couldn't say no. I was afraid."
The woman told police she had been an acquaintance of De Fanis for more than 10 years.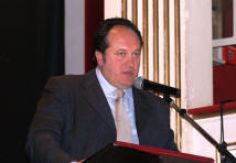 The councillor elected with Silvio Berlusconi's former People of Freedom (PDL) party, offered the woman a job as his assistant when she had to quit her full time job in health care and find a new occupation to look after her ailing mother, she said. The additional job requirements followed shortly after.
Police found the contract torn to pieces at the woman's house while searching the premises during a related corruption investigation. It took weeks for detectives to put the paper pieces back together, La Repubblica reported.
De Fanis has admitted having an affair with the woman but denies forcing her into sexual encounters.
"De Fanis told me [the accusation] is completely groundless," the councillor's lawyer Domenico Frattura told Il Messaggero. "There was a love relationship between the two, with normal confidences and playful acts."
De Fanis, the woman and two other employees at the Abruzzo Regional council were arrested in November on a series of charges including bribery, fraud and embezzlement.
Police allege the group took bribes to award contracts for the organisation of public events and diverted public funds.