Seven Italian scientists who were imprisoned in2012 for failing to predict the 2009 L'Aquila earthquake have had their convictions quashed by a court following a month-long appeal process.
Six meteorologists - all members of the National Commission for the Forecast and Prevention of Major Risks - plus one official met in L'Aquila in March 2009 to discuss a series of tremors in the region, which has a history of severe quakes including one in 1786 which killed 6,000 people.
All the scientists then signed a report stating that a major quake was unlikely.
Six days after the meeting, a 6.3 magnitude quake in the town late in the night destroyed many of L'Aquila's mediaeval buildings and killed 309 people, mostly as they slept. Prosecutors claimed the report "led [the earthquake's] victims to stay in their houses."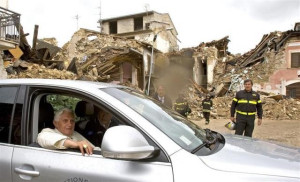 All seven men received sentences of six years imprisonment for " multiple manslaughter and bodily harm" in a case that prompted some scientists to say that science itself was on trial. 5,000 scientists wrote an open letter to Italian president Giorgio Napolitano protesting at the verdict. Many seismologists said it was almost impossible to accurately predict even a major earthquake. The men also had to pay €9m (£7m) damages to families of victims.
Before the appeal judges retired to reach a verdict one of the seismologists, Giulio Selvaggi, said: "I think there is nothing more important for a seismologist to do in a seismic country than to put him – or herself at the disposal of society to help understand what is happening. I went into the meeting on 31 March 2009 with that conviction and I would go back with it today."
Judge Fabrizia Ida Francabandera then ruled the men have no case to answer. Families of some of the victims shouted "disgrace" on hearing the verdict. One defendant's two-year sentence remains unchanged on a similar charge. The original prosecutors can apply to a higher court to reinstate the original guilty verdict.
President of the National Institute of Geophysics and Volcanology Stefano Gresta said "the credibility of Italy's entire scientific community has been restored."