Italy admits to police brutality at Genoa G8 Summit and compensates victims
Amnesty deemed case 'most serious suspension of democratic rights in Western World since World War 2'.
Italy has agreed to pay compensation to six citizens after admitting police used excessive force to quell protests in Genoa during the Group of Eight (G8) Summit, held in July 2001. The state will pay €45,000 (£38,459; $47,850) each to six citizens for moral and material damages.
The case was heard at the Strasbourg-based European Court of Human Rights, which said the case was resolved "amicably" between the parties, news agency Ansa reported.
The case focused on one episode of police brutality at the Bolzaneto barracks, where security forces clashed with anti-globalisation demonstrators. Hundreds of protesters sustained injuries during the clashes and were admitted to hospital.
Demonstrators alleged police spat at them, humiliated them verbally and physically and threatened them with rape as they were held at the barracks.
The episode followed another case of police brutality which saw security forces raiding protesters legally camping at a school in the town the night before. At least 82 protesters were injured in the clashes with police, which also left British journalist Mark Covell in a coma with rib and spinal injuries.
The protests saw some demonstrators ransacking shops and attacking security forces. During the unrest, a 23-year-old protester, Carlo Giuliani, was shot dead by Mario Placanica, a member of the the Italian gendarmerie "Carabinieri".
The security agent was later acquitted as judges ruled he acted in self-defence after Giuliani had thrown a fire extinguisher at his vehicle. Placanica fired a bullet in the sky, but a flying stone diverted the bullet that killed Giuliani.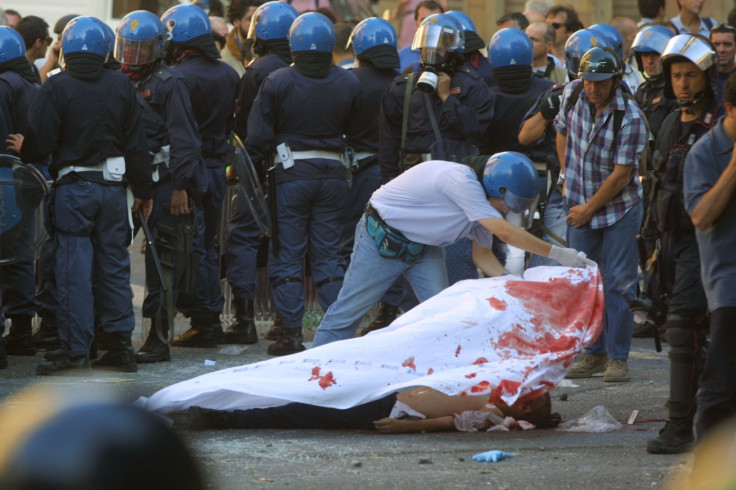 Amnesty International deemed the two episodes of police brutality "the most serious suspension of democratic rights in a Western country since the Second World War".
Following the incident, some heads of the police were suspended and arrested. But rights groups have often claimed Italy has failed to prosecute those responsible for police brutality. The main reason for the acquittal of some police offers is that torture is not a crime in Italy.
Last month, the Council of Europe urged Italy to pass a torture law – which has been sitting at the parliament an Senate for years – without further delay, local media said.
© Copyright IBTimes 2023. All rights reserved.