Italy agrees €5.2bn bailout plan for struggling Veneto banks
Veneto Banca and Banca Popolare di Vicenza rescued as Intesa Sanpaolo buys good assets for €1.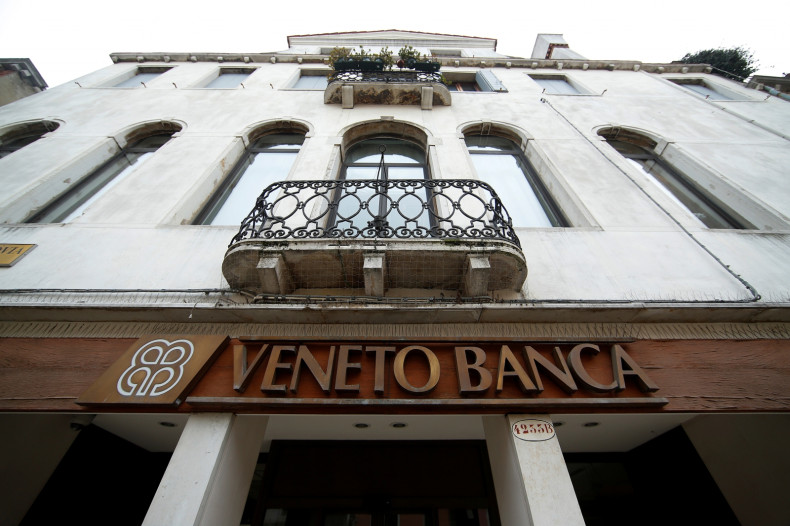 The Italian government has unveiled plans to bailout struggling Banca Popolare di Vicenza and Veneto Banca to the tune of €5.2bn (£4.6bn, $5.8bn).
Last week, the European Central Bank warned the two lenders, both based in the Veneto region, were at risk of failing after loan writedowns led to a combined 2016 loss of €3.4bn and pushed their capital below minimum thresholds.
Intesa Sanpaolo, Italy's largest bank, will take control of the banks' so-called "good assets" after paying the symbolic price of €1. Meanwhile, the branches and employees of the two lenders will effectively become part of the Intesa Sanpaolo group from Monday (26 June).
Rome had offered to lead the bailout, only for EU competition authorities to stress an injection of private capital was one of the requirements to be met for the rescue plan to go ahead.
Italian banks had already pumped €3.4bn into the two struggling banks and had indicated they would not stump up more money. However, their stance changed after realising the prospect of winding down the two Veneto banks could be a lot costlier.
Paolo Gentiloni, the country's prime minister, said the bailout was a necessary measure to ensure "the good health of our banking system" and to protect savers. The Italian government has also committed to offer guarantees of up to €12bn for potential losses to Intesa deriving from bad loans.
"Those who criticise us should say what a better alternative would have been. I can't see it," Italy's Economy Minister, Pier Carlo Padoan, told a press conference.
Winding down the two banks would have resulted in approximately 4,000 job losses and Margrethe Vestager, the European Commission competition commissioner, said the bailout will prevent an "economic disturbance" in the region.
"These measures will also remove €18bn in non-performing loans from the Italian banking sector and contribute to its consolidation," she added.
Crucially, however, the bad assets, which amount to around €17bn, have been left on the books of the Italian government. The move has left analysts unimpressed, particularly as it contravenes the EU bail-in rules set out in 2016, which stipulate that before a single euro of taxpayers money could be used to bailout a failing bank that share and bond holders should absorb the cost.
The rules also stated national authorities would no longer be responsible winding up struggling banks, a task which would instead fall onto the Single Resolution Mechanism.
"As with most things in the EU it didn't take long for this approach to hit the buffers on the altar of political expediency, and next year's Italian elections," said CMC chief market analyst Michael Hewson.
"So much for the so called new single European rule book and the much vaunted European Banking Union [...] Let's hope the Italian government has deep pockets given that this particular bailout is a fraction of the non-performing loans in the Italian banking system, of which it is estimated there are about €300bn."
Italy's banking system is indeed saddled with bad loans worth a combined €350bn, which amounts to a third of the Eurozone's total bad debts.
In December, Banca Monte dei Paschi di Siena (MPS), the world's oldest surviving lender, was forced to ask for state help to cover a €8.8bn funding black hole, prompting Rome to set up a €20bn fund to help struggling banks.
Earlier this month, the Italian government and the European Commission agreed a bailout plan for MPS, which included severe job cuts and losses for some of its investors.