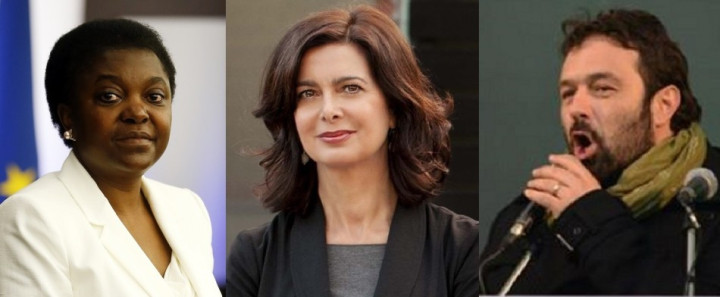 An Italian politician has sparked outrage by blaming the fatal sinking of a boat full of African migrants on Italy's first black minister, Cecile Kyenge, and the chairwoman of the House of Deputies, Laura Boldrini.
An overcrowded and rundown vessel carrying some 500 migrants from sub-Saharan countries caught fire and sank off the coast of the island of Lampedusa, near Sicily. More than 90 people died and 200 were still missing. Some 150 refugees had been rescued.
The xenophobic Northern League party's deputy whip Gianluca Pini said that Boldrini and Kyenge were morally responsible for the tragedy because of their "soft stance" on immigration. He said it encouraged migrants to embark on dangerous voyages to Italy.
"Boldrini and Kyege have on their conscience all [those who] died in recent months," said Pini.
"Their hypocrite school of thought that prefers a do-good attitude to actively supporting third world countries carries dramatic consequences, such as these [deaths].
"By spreading words of welcome [they] only mow down more victims," he said.
Kyange and Boldrini have been under fire by conservatives because of their support for extending citizenship rights to children born in Italy to immigrant parents.
Before being appointed as chairwoman of the House, Boldrini was a spokesperson for the UN High Commissioner for Refugees (UNHCR).
Kyenge, a native of the Democratic Rrepublic of the Congo, said Pini's remarks were offensive to the victims and to Italians.
"My thoughts are with the victims," she said. "[Pini's comments] are insulting not to us but to the victims, to the conscience of Italian citizens and to the inhabitants of Lampedusa, who are doing all they can [to rescue migrants].
"We shouldn't fuel fear of one other but bring people together."
Kyange has often been the target of racist slurs by Northern League and neo-fascist groups.
The league's Roberto Calderoli, who is also the vice-president of the Senate, compared her to an orangutan, while other Northern League members called the minister for integration a "Congolese monkey" and suggested she deserved to be raped.
Gad Lerner, one of Italy's leading journalists, slammed Pini's comment on Twitter as "the lowest point reached by the Northern League and its political cynicism".
Prime minister Enrico Letta announced a day of national mourning.
Survivors claimed that a fire broke out on board when refugees set light to objects in an attempt to catch the attention of local fishermen.
People smugglers have been accused of cutting boat engines and letting refugee vessels drift miles offshore from Lampedusa to avoid coastguard patrols.
According to migrant deaths observatory Fortress Europe, about 6,450 people died in the Strait of Sicily between 1994 and 2012.