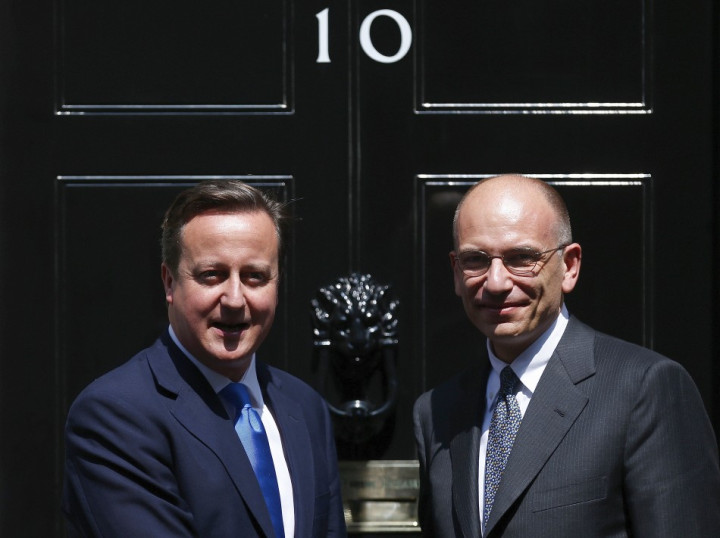 Italian prime minister Enrico Letta has made the case for the UK to remain in a reformed EU and called on his British counterpart David Cameron to play a lead role in alliance with Rome.
Letta was echoed by Foreign Secretary William Hague, who told a London audience he believed that "reforming the EU so that Britain wants to stay in it would be the best outcome for our country, and indeed for Europe".
The reforms they suggested for turning the EU into an efficient entity fully accountable to its citizens differed in substance but did not exclude one another.
They lack the domestic political support necessary to drive the change in Brussels, however.
Ahead of a meeting with Cameron, Letta said that an out-of-the-EU Britain would be less attractive for foreign investors and hold significantly diminished negotiating powers when dealing with extra-European partners.
"We believe the UK should remain a strong, active, and committed member of the Union," Letta said at London's Chatham House thinktank.
"Italy and Britain can be allies to reduce the irritants that make the EU membership more controversial, and vice versa - to strengthen the aspects of the EU which bring an added value to the UK.
"If we show a positive leadership it will be easier to persuade other member states," Letta said.
The Italian prime minister cited bureaucratic simplification and more accountable institutions, including a directly elected President of the Commission, as possible reforms.
"Change in the EU is worth fighting for," Hague said at a dinner at another London think tank, Open Europe.
"We need to decentralise powers better dealt with by national parliaments and governments back to national parliaments and governments."
Home troubles
But both governments have issues closer to home that could distract them from their campaign.
Silvio Berlusconi's judicial troubles loom over Letta's coalition government, which is made up of the leftist Democratic (PD) party and the media tycoon's People of Freedom (PDL) party.
Berlusconi's party lieutenants have threatened to pull the plug on the coalition if their leader is confirmed guilty in his final appeal against tax fraud. The appeal hearing is scheduled for 30 July.
Letta will then have to face new elections or strike a difficult government deal with former comedian Beppe Grillo's Five Stars Movement.
Grillo won 25% of the vote in February's general elections, largely thanks to a pledge to hold a referendum on the EU that conveyed Italy's crisis-fuelled anti-EU sentiment.
Cameron faces his own troubles. Half the Tory backbenchers would like to see Britain out the EU as soon as possible.
Pro-European policies keep the coalition with Liberal Democrats afloat but also alienate part of the Tory electorate, pushing it towards Nigel Farage's Ukip ahead of the 2015 elections.
Cameron and Letta will need to work hard to convince voters that reforming the EU is a better option than quitting it.
To achieve reforms, Rome and London will have to deal with the other 26 members of the EU, many of which, like Greece and Spain, are led by governments on thin ice after a spate of domestic difficulties.
"Some say that this [reform the EU] is impossible. But this government has already won arguments that people said we never would win," Hague said.