Why Italian Homophobia is Leaving Millions Trapped in the Darkness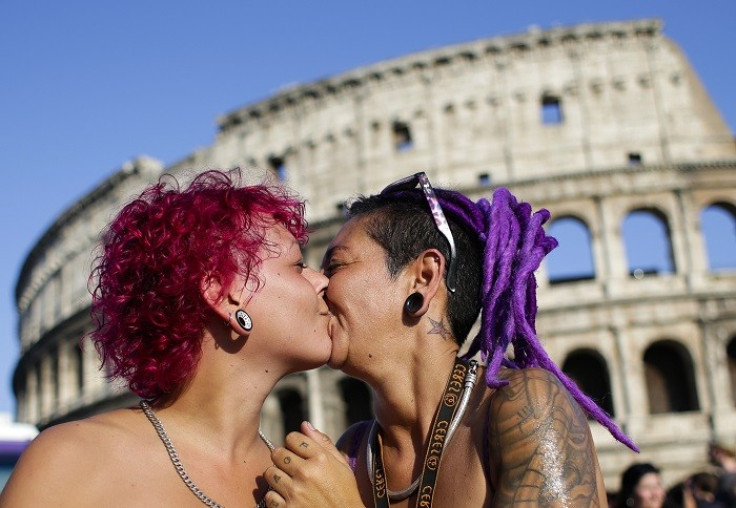 In Italy, LGBT people's rights aren't protected by any law. There's no law concerning couples, no law protecting couples with children, no law on either homophobia or transphobia. Unlike other western and European countries, Italian homosexuals can't marry or have their partnership recognised by the state. It's a ridiculous situation that leaves millions of people trapped in the darkness.
In recent decades, gay rights movements have taken to the streets to reclaim LGBT people's rights but the whole political class has vetoed the implementation on any kind of regulation. However at the social level, the majority of the population is not against granting civil partnerships official status, recent opinion polls show. Thus it is, most of all, a political problem.
We have never had a parliamentary and governmental majority supporting the recognition of civil rights. The centre-right opposes reform, while the centre-left Democratic Party (PD) stance is out of date. In the last electoral campaign, the PD made a more explicit pledge to support a law on civil partnerships similar to that approved in Germany. But such a proposal is at risk of being set aside, as after the elections the PD struck a coalition agreement with the centre-right.
It's unbearable for Italy to remain out of the European context on the issue of homophobia. It's outrageous and a breach of the constitutional right of equality before the law. The lack of regulation also poses a threat to efforts to tackle the culture of discrimination, to which LGBT people are clearly exposed.
LGBT people have conquered social exposure but the accomplishment of full equal rights is made difficult by different shades of discrimination. News reports on attacks against gays and transsexuals continue, and it's not unusual to hear people describing gay families as a threat to traditional and natural families [as seen in the recent comments from pasta magnate Guido Barilla]. This leads to uneasiness among gay youths, which has in turn led to suicides and attempted suicides.
Now, it is time to take action. I have, for instance, put before a bill before the parliament on gay marriage. A few weeks ago, the parliament finally discussed a law against homophobia and transphobia. However, once again a fully satisfying text could not be agreed on.
The simple fact that the necessity of an anti-homophobia law has been accepted is indeed a step ahead. Nevertheless an amendment to the bill has de facto created free areas in the fight against discrimination. The amended version is a compromise that in facts exonerates associations and organisations from its application. The bill is yet to be fully approved by the parliament. The senate has to discuss it and it must change it. As it is it doesn't work.
But the fight must go on. We must not be afraid to fight homophobia. We must act firmly, and ban it once and for all.
The Honourable Alessandro Zan is a member of the Italian Chamber of Deputies and a key member of the Italian LGBT organisation Arcigay. You can find out more about him and his campaigns by visiting his personal website [in Italian] or the Arcigay site.
The article was translated by IBTimes UK journalist Umberto Bacchi.
© Copyright IBTimes 2023. All rights reserved.