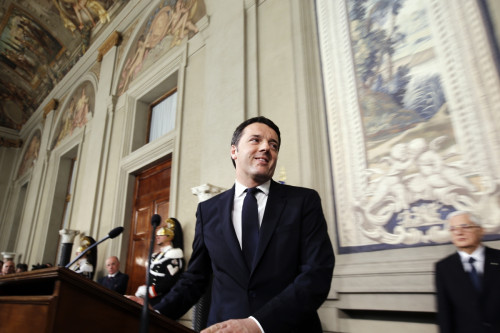 Matteo Renzi has accepted the task to form a new government in Italy, offered him by President Giorgio Napolitano, and pledges to make sweeping reforms when he takes on the role of Prime Minister.
Democratic Party (PD) secretary Renzi was offered the role of PM after the palace coup that led to the resignation of former Prime Minister Enrico Letta.
Renzi, also currently the Mayor of Florence, set an ambitious fast-paced agenda for his cabinet-to-be, announcing that several major reforms will be submitted to the parliament in the next few months.
"I received mandate to form a new government by the President," Renzi, 39, told journalist upon leaving an hour-long meeting with Napolitano at the Quirinal palace in Rome.
"I guarantee the president, the political forces and Italians that I'll give all my courage, zeal and energy."
Renzi pledged the new government will detail an electoral reform in February.
The man set to become Italy's youngest prime minister also announced new labour laws for March, reforms to the public administration for April and a tax bill for May.
"We are going to work very hard on contents," Renzi said, adding that his priority was to tackle unemployment.
Renzi is now due to meet with the President of the Senate and the Chamber of Deputies.
The head of the centre-left PD will then hold talks with other party leaders to strike a new government coalition agreement.
The new government is likely the have the same parliamentary backing of the previous one.
Letta ruled for ten months thanks to an uncomfortable alliance with centrist forces and the small New Centre Right party, led by Angelino Alfano, a former ally of Silvio Berlusconi.
He resigned last week after the PD approved a motion backed by Renzi calling for a new government to be formed.
Renzi had accused Letta's administration of inaction at a time when drastic measures were needed to help Italy exit the economic crisis.