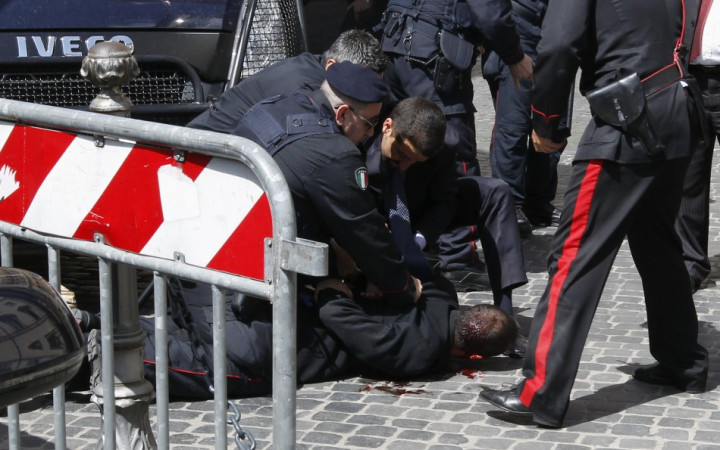 A gunman who shot and wounded two policemen in a botched attack on politicians in Rome is being hailed a hero.
Placards praising Luigi Preiti's action were posted in the Susa valley after a banner hailing the shooter appeared at an International Workers' Day parade in Turin.
"Solidarity to Luigi Preiti," the placards read. "May Day is for you. The [economic] crisis kills" was written on the Turin banner. The banner sported photos of Preiti and suicide victims who had killed themselves because of Italy's economic problems.
An unemployed man from the southern Calabria region, Preiti, 49, wounded two Carabinieri outside the premier's office after the swearing-in ceremony.
Preiti told prosecutors that his intention was to gun down politicians who he blamed for the loss of his job amid the economic crisis.
"I was desperate as I couldn't' sustain my son any more," he reportedly said. "It's unbearable to be back at your parent's [home] because you can't support yourself, while politicians are well off and enjoy their lives."
Preiti's attack came as a coalition government formed by Silvio Berlusconi's PDL party and centre-left Democratic Party (PD) was sworn in across the city at the Quirinale Palace.
"PD and PDL struck a deal to make war against the poor," the placards in Susa Valley read. "Preiti has done what everybody says in every good Italian bar. His act shouldn't astonish. What is actually astonishing is that it has been an isolated act."
The placards were later removed by local authorities.
Corruption-ridden political class
"[The] April 28 [shooting] at the Chigi Palace and outbursts of intolerance at May Day [rallies] in Turin and Naples are disturbing warnings," PD MEP Andrea Cozzolino told IBTimes UK.
Contempt for Italy's corruption-ridden political class has been deepening in the face of continued economic hardships, austerity measures and tax hikes.
"The Chigi Palace incident shows how victims are turned into executioners by the national emergency," said the speaker in the lower chamber of parliament, Laura Boldrini.
Some members of the PDL party blamed the shooting on former comedian turn politician Beppe Grillo.
Grillo's Five Stars Movement electoral success at the February elections was partly built on furious attacks on the political establishment.
"The fact that the Palazzo Chigi shooter might be a mentally unbalanced person does not diminish the responsibility of those who fuel an environment of hatred and violence," said PDL's Maurizio Gasparri.
But Grillo deflected blame. "Our movement is absolutely non-violent. We collect signatures, call for referendums and popular laws. [We express] solidary to security forces and hope it is an isolated act," he replied to on his blog.
Paolo Becchi, a law professor at Genoa University who is said to be one of M5S ideologists, added to the row when he maintained that the newly formed government of Enrico Letta benefited from the shooting.
"We shouldn't complain if in a few months' time someone picks up a rifle, as we have put another banker in charge of the economy," Becchi told Radio 24 in a reference to former Bank of Italy executive Fabrizio Saccomanni's appointment as economy minister. Grillo swiftly distanced himself from Becchi, who later apologised.
Police officer Giuseppe Giangrande, who was shot in the neck, is still on the danger list at a Rome hospital. His colleague Francesco Negri, who was wounded in the leg, is to undergo surgery.