Italy Gunman: Luigi Preiti 'Angry at Politicians'
Minister claims that suspect who wounded policemen outside PM's office was making 'tragic criminal gesture'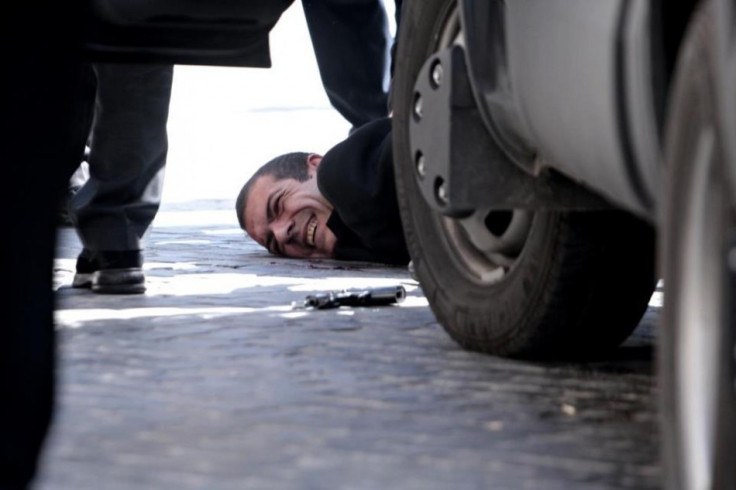 A suicidal unemployed man making a "tragic criminal gesture" was responsible for shooting two police officers outside the Italian prime minister's office in Rome, authorities said.
One officer was shot in the neck and another in the leg as crowds gathered waiting to greet the new premier Enrico Letta who was being sworn in only a kilometre away in the Quirinale palace.
The man was wrestled to the ground and arrested and has reportedly declared to police that he was acting out of "anger with politicians" and shot the officers as he was unable to target politicians.
"The tragic criminal gesture this morning was carried out by an unemployed 49-year-old man who showed signs of wanting to commit suicide," Angelino Alfano, the country's interior minister said.
The man being held by police has been identified as Luigi Preiti, from the southern region of Calabria.
Rome mayor Gianni Alemanno has declared that the shooting was "not an act of terrorism" but highlighted the country's profound political tensions.
The suspect reportedly fired six shots and shouted "Kill me! Kill me!" to police.
Both officers are being treated in hospital, and the officer shot in the neck may have serious spinal or back injuries.
Sky Italia, in an interview with the suspect's brother, reported that Preiti had recently lost his job in a construction firm and was experiencing marital problems.
Prosecutor Pierfilippo Laviani told the BBC that Mr Preiti had "lost his job, he had lost everything".
"He has confessed everything. He doesn't seem to be a deranged individual," Mr Laviani said.
Italy has suffered years of recession and months of economic deadlock after national elections in February failed to produce a clear winner.
On Saturday, centre-left candidate Letta, 46, managed to form a coalition government, including prominent allies of opponent Silvio Berlusconi in his cabinet.
Letta has promised to introduce policies to stimulate growth and reform Italy's and rejuvenate the country's political system, which has long been dogged with accusations of cronyism and corruption.
© Copyright IBTimes 2023. All rights reserved.