Italian Job: Kalashnikov Gang Escape with €10m in Como Highway Security Van Holdup
Gangsters block in security vans carrying gold and cash on motorway in what is described as 'paramilitary action'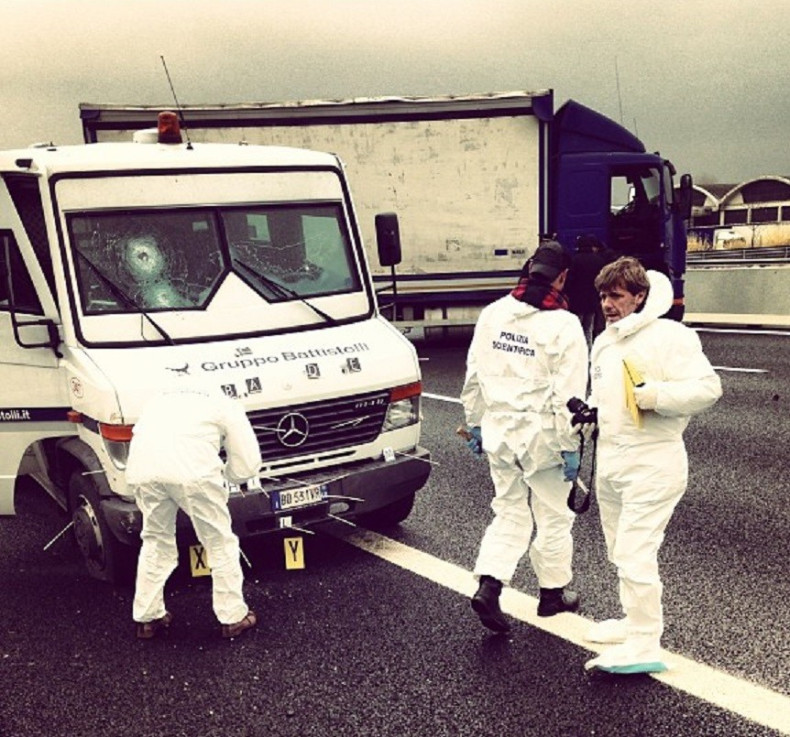 At least 10 gangsters armed with Kalshnikov rifles held up two armoured security vans on a motorway outside Como and escaped with €10m (£8.5m) in gold and cash.
In what Italian media described as a "paramilitary action", robbers blocked in the Gruppo Battistolli security vans by sealing off both ends of a stretch of the A9 highway between Saronno and Turate with two abandoned lorries. The A9 connects Milan to the Swiss city of Chiasso.
Armed with Kalashnikov rifles, gang members opened fire on the vans and the security escort fired back but the occupants of one vehicle were forced out on to the roadside by a smoke bomb.
Robbers broke open the vehicle with a shovel that was later found at the scene. Investigators also found at least 50 bullet casings although there were no injuries.
The gang set one of the blockade trucks on fire and threw nails across the road to slow down police as they drove off towards Switzerland in three cars.
Authorities said that three suspect vehicles, two Alfa Romeos and an Audi, were found abandoned in a farmhouse near Turate.
Security firm Battistolli would not confirm exactly how much had been stolen.
"We can only say it was a mixed load made of different securities collected from banks and supermarkets," a Battistolli spokesperson told Italian news agency Ansa. "It's too early to estimate the total value."