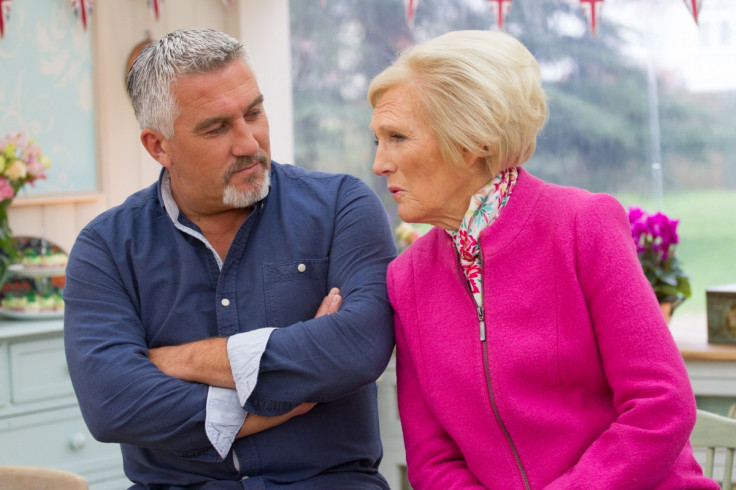 ITV want a slice of the BBC's success as they reportedly plan to obtain The Great British Bake Off. The Beeb faces pressure from its rival network after their three-year deal with its creators come to an end later this year.
Channel 4 and Sky are also interested in poaching the hit television series, which is fronted by Mary Berry and Paul Hollywood, but following ITV's usurpation of The Voice after the BBC declined to match a £22m bid for a three-year deal, it is likely that the Bake Off could be next.
ITV are said to be desperate to get their hands on the cookery show from its television competitors as the seventh series is due to air this autumn, marking the end of the BBC's deal with Love Productions. As the two organisations commence talks negotiating a new contract, BBC TV Channels Controller Charlotte Moore, who commissioned the show in 2010, faces a dilemma as the broadcaster strives to save money – approximately £800m a year over five years.
Keeping the Bake Off could ultimately cost as much as £20m, a vast increase in value since when it first began with £3m, and it would not return to the small screen until 2018 if taken by another channel due to a clause in the BBC's contract. A source told The Sun: "It's no surprise all the broadcasters want a chance at landing Bake Off. It really would be a fantastic fit for Channel 4.
"But if you were Sky or ITV why wouldn't you want the most-watched show on the telly?" they added.
Moore spoke of how the much-loved baking competition was a 'big part' of the BBC, telling The Telegraph: "I'm sure [commercial rivals] would love Bake Off but it's a big part of BBC One. I don't take anything for granted, but I think the programme-makers like to be on BBC One. It is everything that BBC One should be about," she added.
Since the loss of popular talent show The Voice, which currently counts Will.i.am as one of its judges, letting go of The Great British Bake Off will be a huge blow to the BBC. Viewers will find out what channel the show will be aired on by summer.