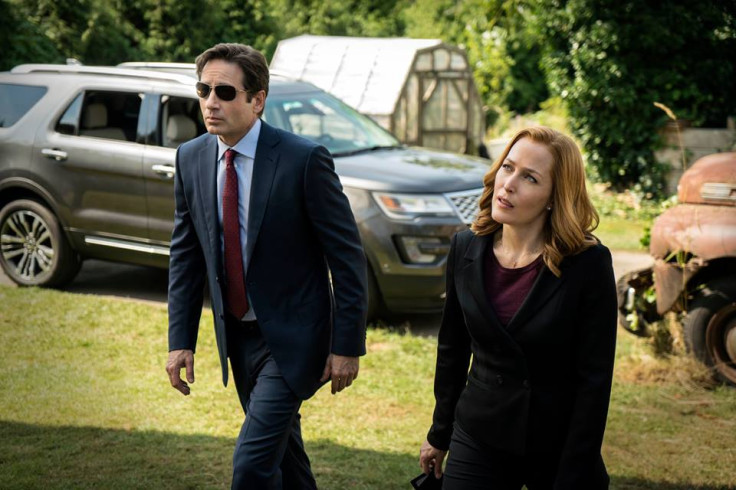 David Duchovny and Gillian Anderson have garnered praise and won legions of new fans after 'taking the knee' — the silent protest started in 2016 by then-San Francisco 49ers quarterback Colin Kaepernick, to highlight the pattern of police brutality against African-Americans — on the set of The X-Files in a show of solidarity with NFL stars protesting racial injustice.
The actors, who play Fox Mulder and Dana Scully in the sci-fi series, shared the snap of themselves kneeling and linking arms during a break from investigating paranormal activities on 25 September, with the simple caption: "#TheXFiles #TakeAKnee."
Within hours, the Twitter image had been liked over 50,000 times and had nearly 17,000 retweets, with scores of fans also flocking online to have their say.
"So Proud of you both and OMG. Y'all look fantastic," one person said.
"Every time I think I can't possibly ❤ you 2 any more than I already do, you go & prove me wrong Thank you for this! #IKneelwithKaepernick.
Another fan thanked the pair for standing up for constitutional rights saying: "I've never been prouder to be an X-Files fan."
But it was not all positive. Some commentators berated them for trying to politicise the show.
"Try respecting our flag and country or leave. You can be replaced," one person said while another added: "So is this the new universal act of snowflake butthurt America throwing their crybaby temper tantrum cuz they lost the election? Stick it."
A third urged them not to "real-world politicize The X-Files. You want to take a knee? Do it as yourself and not by an X-Files logo. Thank you kindly".
Over the weekend President Donald Trump publicly criticised the NFL, MLB, and even tennis players for taking the knee.
"They're ruining the game," the commander-in-chief complained adding that a refusal to stand during "The Star-Spangled Banner" warranted disciplinary action.
"That's a total disrespect of our heritage. That's a total disrespect of everything that we stand for," he reasoned, encouraging owners to act. "Wouldn't you love to see one of these NFL owners, when somebody disrespects our flag, you'd say, 'Get that son of a bitch off the field right now. Out! He's fired."