Jack Wills has denied encouraging underage sex after regulators investigated and banned one its adverts for exposing children to sexualised images.
The clothing company, which has about 60 stores across the UK, was accused by the Advertising Standards Authority (ASA) of being "irresponsible" and producing "sexually suggestive" promotions with its depiction of a semi-naked pyjama party.
The adverts, which appeared in this year's Jack Wills spring catalogue, showed young male and female models drinking in their underwear and dancing on a bed together.
One picture showed a woman sitting on a toilet with her legs spread, while another saw a group of semi-naked men and woman lying on top of each other on a bed.
Text featured alongside included "midnight mischief" and the suggestive sentence: "Pure and comfortable cottons, or flirty delicate laces; whatever your choice, you can be sure it's what's underneath that counts..."
The ASA regulator investigated whether the adverts had broken the UK advertising code protecting children from sexual imagery after an individual complained the images were likely to be seen by young teenagers.
In response, executives at Jack Wills denied encouraging underage sex with its promotions and insisted its brand was targeted at 18 to 24-year-old university students, and not at younger teenagers.
The company told the ASA the images used "were not sexualised, provocative and did not imply sexual activity in any way", pointing out that none of the models were naked nor wore transparent lingerie.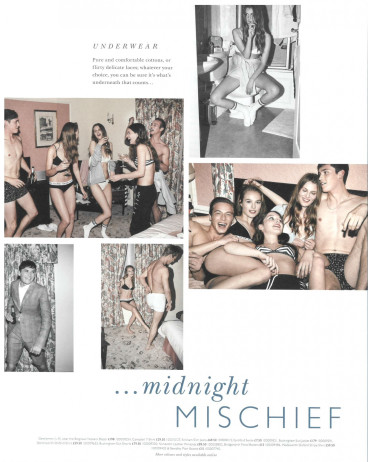 It said its depiction of a pyjama party was in keeping with its brand image of showing a group of young friends having fun together, and denied using sexually suggestive double entendres with associated text.
But in a ruling published on Wednesday (1 June), the ASA disagreed and accused the company of exposing young teenagers to sexual imagery.
The regulator said the "suggestive" sequence of events portrayed in the adverts saw the models go from being clothed, to being in their underwear while drinking, to ending with a group of semi-naked youngsters on a bed together.
It also said the images, while not modeled by young teenagers, were "likely to appeal to those readers because they portrayed a lifestyle to which they might aspire".
It added: "We considered that this sequence of images, in conjunction with the text, was sexually suggestive as opposed to simply being flirtatious or playful.
"Because we understood that younger teenagers could have both direct and indirect access to the catalogue, and because we considered the images and text were sufficiently sexualised to be inappropriate for that audience, we concluded that the ad was irresponsible and that it breached the Code.
"The ad must not appear again in its current form. We told Jack Wills Ltd not to use sexualised images and text that were inappropriate for younger teenagers in ads to which those teenagers could have both direct and indirect access."
Jack Wills said it would in future make it clear consumers were required to be over the age of 18 to receive its catalogues.
It comes just two months after the ASA banned another series of clothing adverts after saying they sexualised young children. The posters, for fashion company Nobody's Child, used a young looking model in sexually suggestive poses.
---
Watch: Top 10 most complained about UK adverts in 2015 including #EpicStrut and Beach Body Ready
---