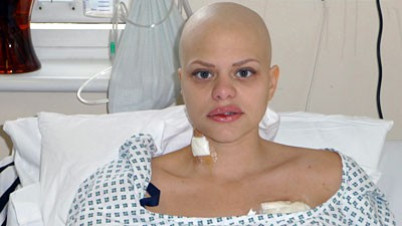 An opera inspired by the life of Jade Goody, the reality star who died from cancer, has not received her family's blessing.
The production, entitled And The Crowd (Wept), will portray Goody's rise to fame through Big Brother in 2002, her part in the 2007 Celebrity Big Brother racism scandal and her death from cervical cancer in 2009.
Afsaneh Gray, who spent more than three years developing the drama, said she was the epitome of the modern celebrity dream.
"I was a medical secretary just at the time when Jade Goody got ill with cancer, and the two women I was working with were coming in every day with The Sun and OK magazine. And they took really opposing ideas of her," Gray told BBC News.
"She was a sort of every-woman figure who made it in the modern celebrity dream... It's incredible the way we consumed her whole journey.
"There's that idea that if you want it enough anybody can be a celebrity, and I think she embodied that. She's this ordinary girl who somehow just made it, and that's very interesting."
But despite the fact that Goody shared every aspect of her life on screen and through magazines, her family are yet to approve the new biopic.
Gray said she had attempted to get in touch with Goody's widower Jack Tweed and Jade's family members, but had failed to receive a reply. It is also understood that Jackiey Budden, Goody's mother, has not given her permission.
"I really want to invite them," she added.
And the Crowd (wept) is directed by Pia Furtado and is conducted by Adam Gatehouse of BBC Radio 3. It features three actors playing the various sides of Goody.
It is scheduled to run for two nights on from 1 August at the Tete a Tete opera festival at London's Riverside Studios.