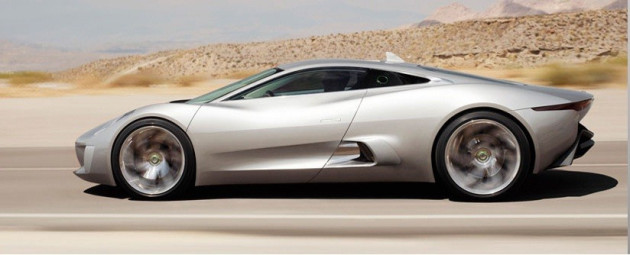 Jaguar has announced its decision to cancel the production of its exclusive hybrid supercar C-X75 due to the current global economic crisis.
"We feel we could make the car work, but looking at the global austerity measures in place now, it seems the wrong time to launch an £800,000 to £1 million supercar," said Adrian Hallmark, global brand director of Jaguar.
"This is backed up by other products from us that people are screaming out for."
Jaguar will continue to develop five working prototypes of C-X75 out of which three will be auctioned off while one will go into a future Jaguar museum and the other will be kept by the company for future running demonstrations.
The C-X75 was first revealed as a concept car at the Paris Motor Show in 2010.
Hallmark said the investment in the project would not be wasted as a major part of the technology could be used in the development of future Jaguars. The C-X75 has 100 patents that include carbon breaks, method of casting alloy wheels to reduce weight and some features of aerodynamics among others.
The hybrid supercar was expected to achieve 60mph in less than three seconds and 100mph in less than six seconds, before reaching a top speed of more than 200mph. Its lightweight construction and powertrain technology were expected to reduce pollution with CO2 emissions as low as 99g/kg.
In May 2011, Jaguar confirmed that the C-X75 was signed off for production in the UK with the company's first bonded carbonfibre chassis using the expertise of Formula 1 team Williams. The C-X75 had received around 100 expressions of interest and Jaguar planned to build 250 cars.
The collaboration with Williams would also end in May when the project comes to an end completely.
Jaguar earlier said the production of Jaguar C-X75 would create more than one hundred highly-skilled jobs in the UK.