The Indian government and the Tamil Nadu state administration are exploring legal loopholes to facilitate holding Jallikattu, or bull-embracing festival, in the southern Indian province. Both the governments are reportedly planning to issue a special executive order so as to overcome a Supreme Court ban on the event.
As part of a well-orchestrated and politically calculated move, the federal government requested the Supreme Court to hold on to its judgment on petitions challenging a 2016 government notification allowing the sport. The court has agreed to delay its verdict for a week technically allowing the government to push ahead with what is known as "ordinance", or executive order.
Following the court breather, government officials scrambled to draft the order, which is now with the Indian home ministry awaiting presidential approval. With the president expected to ratify the government's recommendation on Saturday, 21 January, it leaves no room to mount a legal challenge before the weekend, paving the way for holding the bull sport on Sunday, 22 January, as the preparations suggest.
Pro-Jallikattu protests have been snowballing across the southern Indian state particularly around Chennai. Tens of thousands of people have been demonstrating in favour of conducting the event, which traditionally takes place in mid-January to commemorate the harvest festival of Pongal.
"It was also decided to issue an ordinance to make this amendment. Under the constitution of India, this draft ordinance has to be sent to the Union home ministry and on Centre's [federal government] recommendation it has to be sent to the president for his approval," said Tamil Nadu Chief Minister O Pannerselvam, who has camped in New Delhi to get the matter resolved.
He was quoted as saying: "As stated by the prime minster, we will get full central cooperation on this matter. So, with the ban about to be removed and Jallikattu likely in a day or two, I request the public, students and other organisations who have been protesting to withdraw their agitation."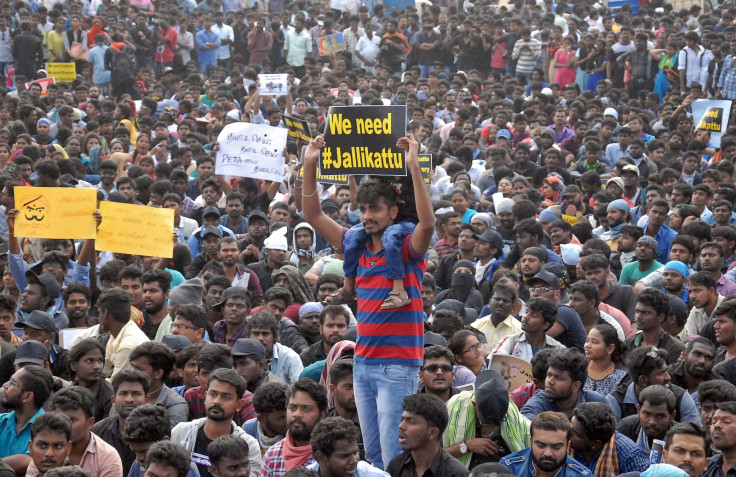 During the event, formally known as "Erudu Thazhuvudhal" or "bull-embracing", young men compete with native-bred bulls, which are often specially raised as pets for the sport, by holding on to the animals' hump for less than half a minute. However, the courts have banned the event citing animal cruelty and human casualties after animal rights group filed cases against the festival.
Thousands have spent days and nights at Chennai's famed promenade and one of India's longest urban beaches, Marina. The protesters say they will not call off their agitation unless a formal order allowing holding of Jallikattu is issued.