A translation of the New Testament into the dialect spoken by Usain Bolt is about to go on sale. And it is safe to say that the King James Bible of the Church of England this is not.
How many times has the Angel Gabriel been recorded breaking the news of the Immaculate Conception to the Virgin Mary by starting his announcement with: "Lisn op!" - listen up.
"Di uman we neehn slip wid no man a-go get beibi..."
The more traditional translation of the event reads: "Behold a virgin shall be with child."
The Jamaican New Testament tells the story in a whole new way by presenting it in the dialect of the Caribbean island.
Twenty years of research by Rev Courtney Stewart of Jamaica went into creating it with the Bible Society. Stewart consulted ancient Hebrew texts for his translation and consulted scholars to make his rendering as authentic as possible.
The result is not just an unusual addition to the canon of ecclesiastical works. The Jamaican New Testament is a important cultural landmark, according to its author.
That is because patois is largely a spoken language which is rarely written down. Bolt is probably the best-known patois speaker.
TV broadcasters have on occasions used subtitles to make more comprehensible the words of his team-mates.
Opinions on Stewart's new translation may divide along the lines of what people think about patois. Some Christians may dismiss it as street slang and object to their holy book being translated into it but others such as linguists and patois-speakers may see it as another way of spreading the word.
Stewart defended his Jamaican New Testament and insisted it showed that patois had "come of age".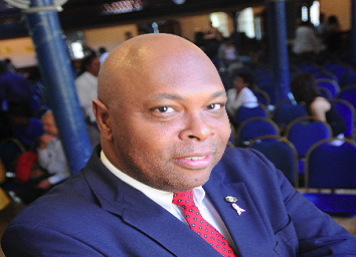 He said: "We have blazed a trail that no one in the 400-year history of our language has done.
"Yes, patois has played a part in music, drama and entertainment. But we have taken the language and gone directly to the most serious and highly regarded and most respected work - the Bible.
"To suggest that certain languages are not worthy of the word of God is arrogant and ignorant. Patois is the language in which we dream."
How much of the Jamacia New Testament do you understand?
Test your knowledge by identifying the biblical story described in each passage.
1: Dem tek out di present we dem did bring, an gi di pikni - guol, frangkinsens an mor.
2: Mieri, mi av nyuuz we a-go mek yu wel api. Gad riili riili bles yu an im a waak wid yu all di taim.
3: Lov unu enimi.
4: Dem na'av no muor wain lef'
5: So Jiizas get op an taak chrang tu di briiz, an tel di sii fi sekl dong.
Answers:
1: The Epiphany story.
2: The Annunciation story. "Hail though that art highly favoured, the Lord is with thee: blessed art thou among women.'
3: 'Love your enemies.' (Luke 6: 27)
4: "They have no more wine left." (The wedding of Cana story.)
5: Jesus calms the storm. "Jesus stood up and commanded the wind, 'Be quiet!' and he said to the waves, 'Be still!'."