James Gunn and Mark Hamill plan neighbourly chat about Guardians of the Galaxy 3 role
"I would be happy to do so, both as a good neighbour and an unemployed actor," said Hamill.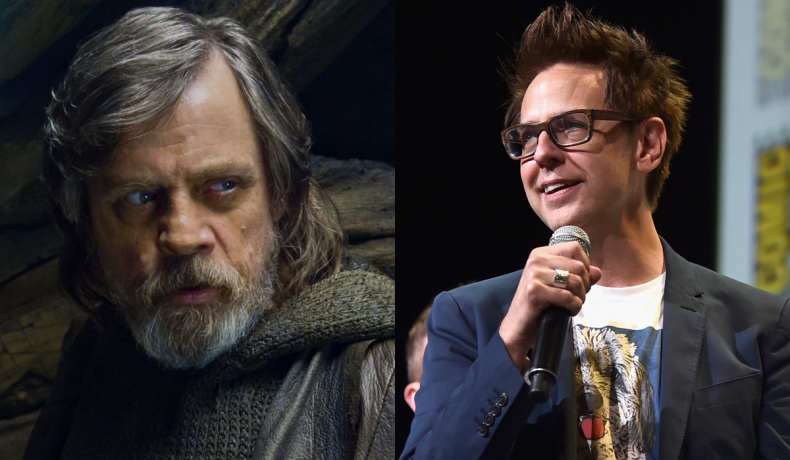 Writer and director James Gunn has arranged to meet up with Star Wars star (and neighbour) Mark Hamill after a fun exchange on Twitter. The pair were answering a fan request that Gunn find a role for Hamill in Guardians of the Galaxy Vol 3.
Fan Ian Fee probably wasn't expecting either man to respond when he tweeted them yesterday (25 February) but both did. "I think [Mark] lives around the corner from me in Malibu so he can just come over and we can talk about it over a cup of coffee," Gunn said.
"I would be happy to do so, both as a good neighbour and an unemployed actor," Hamill replied.
"All the best."
The pair then arranged their meet-up before actor Josh Gad - best known for Frozen and Beauty and the Beast - popped in to react to the unlikely exchange with a gif illustrating the same awe shared by thousands of fans.
Guardians of the Galaxy Vol 3 is set for release in 2020 and will conclude the Marvel Studios trilogy started by Gunn in 2014.
Given the films' love of '70s and '80s pop culture, Hamill would be a good fit for the sequel following turns in Vol 2 from pop culture icons like Kurt Russell, Sylvester Stallone and David Hasselhoff.
There's no guarantee a role will be found for Hamill, but it's good to know the two beloved internet personalities are at the very least good neighbours.
Guardians exceeded expectations to become a pop culture phenomenon and one of Marvel's most successful films to date. The sequel, released in May 2017, was an even greater success leading to the announcement of a sequel shortly after.
Hamill meanwhile returned to his most iconic role in 2015, donning Luke Skywalker's Jedi robes at the very end of Star Wars: The Force Awakens. In December he starred in follow-up The Last Jedi alongside Daisy Ridley and Adam Driver.