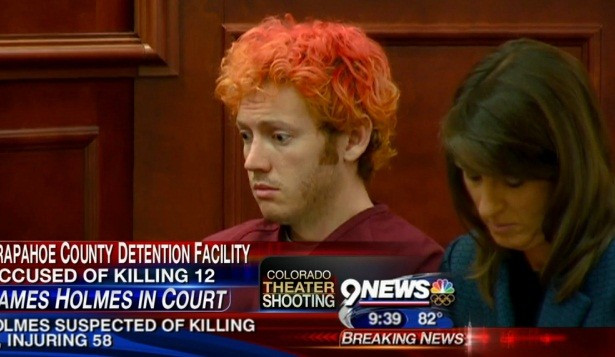 A dazed-looking James Holmes, the suspected gunman in the Colorado cinema shooting, has made his first appearance in court.
Holmes, 24, is accused of killing 12 people and injuring more than 50 during a shooting spree in a packed cinema in Aurora, Colorado, during a midnight screening of The Dark Knight Rises, the last part of Christopher Nolan's Batman trilogy.
Following his arrest, police discovered that Holmes had booby-trapped his apartment.
Clearly tired and distracted and sporting orange hair, Holmes did not speak in court as the murder charges were read out against him. He could face further charges of aggravated assault and weapons violations.
Prosecutors are seeking the death penalty for the former PhD student. District attorney Carol Chambers said a decision would be made in consultation with victims' families - a process that could take months.
Authorities said Holmes was not co-operating with their investigation. He had requested an attorney.
Holmes is accused of throwing two gas canisters into the packed Screen 9 auditorium at the Century 16 multiplex before firing randomly into the crowds. He was wearing full body armour.
According to witnesses, the gunman would have killed more people if the AR-15 assault rifle he was using had not jammed.
Aurora police chief Dan Oates said Holmes had been collecting guns and ammunition over the internet for months before the incident, including 3,000 rounds for a .233 semi-automatic AR-15 rifle, 3,000 rounds for two .22 Glocks and 300 cartridges for a pump-action shotgun.
Holmes bought all the weapons legally.
One of the fatalities was a six-year-old girl. Nine of those wounded remain in a critical condition.
Holmes has been held in solitary confinement since his arrest and was taken from his cell into the courthouse in the town of Centennial through an underground tunnel.
Prosecutors have three days to file formal charges at an arraignment hearing, at which time the suspect will enter his plea.
President Barack Obama met survivors and relatives of the victims in Aurora as thousands gathered for a vigil in the Denver town.
Obama said outside the University of Colorado Hospital: "Words are always inadequate in these kinds of situations. My main task was to serve as a representative of the entire country and let them know that we are thinking about them and will continue to think about them each and every day."