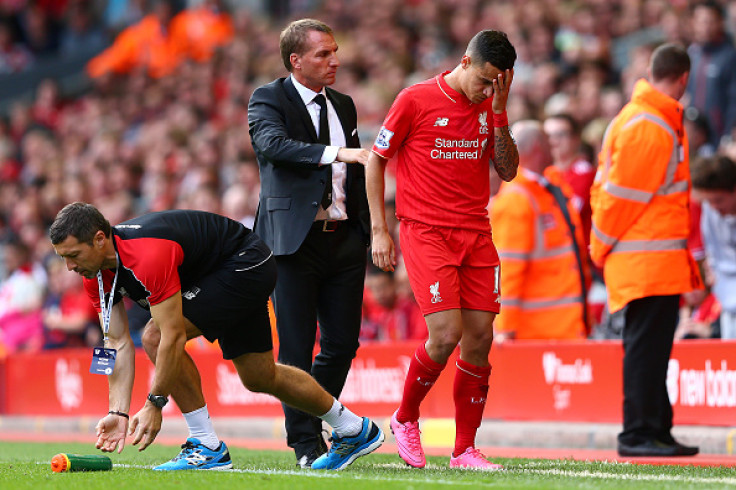 Jamie Carragher believes that Brendan Rodgers' obsession with the 4-3-3 formation is adversely affecting Liverpool's chances in the league this season. The Reds stumbled to their second successive loss after a 3-1 defeat at the hands of Manchester United at Old Trafford, where a Christian Benteke screamer was the closest they got to reducing the deficit.
The former Liverpool defender was critical of Rodgers' decision to play Danny Ings on the wings, as he did not have the necessary quality to support Benteke through the middle. Carragher also touched on Liverpool's lack of wingers in the system, which made the formation all the more incredulous in the grand scheme of things.
Coutinho has generally been played on the left this season by Rodgers but Carragher believes that the manager should understand his players' best position and play them there. Firmino, another player who can play behind the striker, has been deployed on the right, which Carragher believes does not help Liverpool's chances by the very least.
"There's not enough help for Benteke. Ings came in and I said before the game it mus't be two up front and they must be playing a diamond formation, but they were still playing 4-3-3," Carragher told Sky Sports. "I don't understand what the point was in playing Danny Ings in that wide position. He didn't give the support to Benteke.
"You think about how many strikers Liverpool have on the books and they have no wide players. They've only got Jordon Ibe. Firmino is not a wide player and Coutinho played there last week and he's not a wide player.
"I don't understand this obsession with playing 4-3-3. Brendan Rodgers came to the club wanting to play 4-3-3 and it didn't work.
"The great season they had was with two strikers and how they got them into the team is down to the manager. They've got a lot of strikers, no wide players, and he continues to play 4-3-3," he added.
Rodgers will be desperate for Daniel Sturridge to come back into contention as soon as possible, given the dire set of results this season. The striker is back in full training after missing the major part of last season with a barrage of injuries.