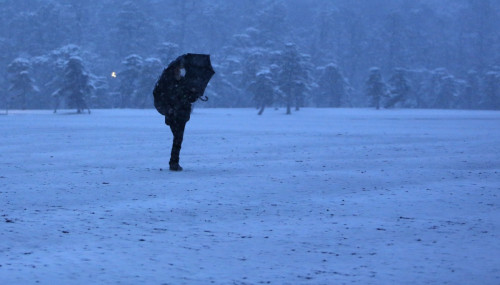 Heavy snow has blanketed several areas of Tokyo while most parts of Japan are witnessing record snowfall, triggering avalanche warnings in some regions.
Japan's Meteorological Agency has said avalanche advisories are in place following a record 27cm snowfall (10.6 inches) in Tokyo. This is the heaviest in more than four decades and equals the recent snowstorm that hit Japan last week.
Avalanches have already been reported in several spots of Miyagi and Yamagata prefectures.
The agency has further warned that the low pressure that brought the heavy snowfall is moving towards north-eastern parts of Japan. Besides, another low pressure system is forecast in the eastern region, bringing fresh snow and strong winds.
At least 12 people have died in weather-related incidents and nearly 850 others have been reported injured.
The blizzard has also caused large-scale travel disruption. More than 600 domestic flights and a dozen international flights have been cancelled. Many airlines have advised passengers to check their flight schedules before heading out for airports.
Around 4,500 people were forced to spend the night at Tokyo's Haneda airport after their flights were cancelled.
The snow has also caused widespread disruption to road traffic and public transport. A train rammed another train in Kawasaki after its brakes failed, injuring dozens of people.
The foul weather also knocked out power supplies in many areas.
On Saturday the Tokyo Electric Power Company (Tepco) said as many as 246,000 households did not have power supply across Japan, but that power was quickly restored to most of them.