Japanese Prime Minister Shinzo Abe has condemned the latest hostage video released by the Islamic State (Isis) militants threatening to execute the second captive Kenji Goto.
Calling the 24-hour deadline given by the extremist group "despicable", the Japanese premier reiterated the calls for Goto's release.
"This was an utterly despicable act, and I am appalled. While we are in an extremely severe situation... the government is united to work for the early release of Mr Kenji Goto," Abe told reporters.
Though the video, which demands the release of al-Qaeda militant Sajida al-Risawi in exchange for Goto and Jordanian pilot Muath al-Kasaesbeh, is yet to be independently verified, authorities have said the footage appears to be genuine.
The group warned Goto will be killed within 24 hours and the Jordanian pilot, who was captured by militants after a fighter jet crashed in Syria in December 2014, has "even less" time if Jordan does not release the would-be suicide bomber al-Risawi.
"The government, in this extremely severe situation, has been asking for the Jordanian government's cooperation toward the early release of Mr Goto, and this policy remains unchanged," said the Japanese prime minister.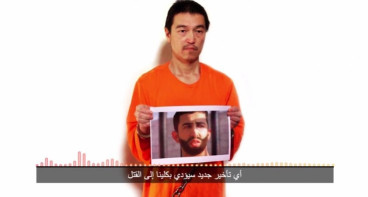 Officials in Tokyo have also said they are making all-out efforts to secure the safe release of Goto, 47, a veteran war reporter.
Japan's Chief Cabinet Secretary Yoshihide Suga, in an early morning press conference on 28 January, said Tokyo investigators are in close contact with Jordanian officials over the situation.
Meanwhile in Amman, dozens of people comprising family members and friends of al-Kasaesbeh protested outside the prime minister's office exhorting the government to satisfy IS's demands in order to free the pilot.