Isis: Japanese PM Shinzo Abe condemns beheading of Haruna Yukawa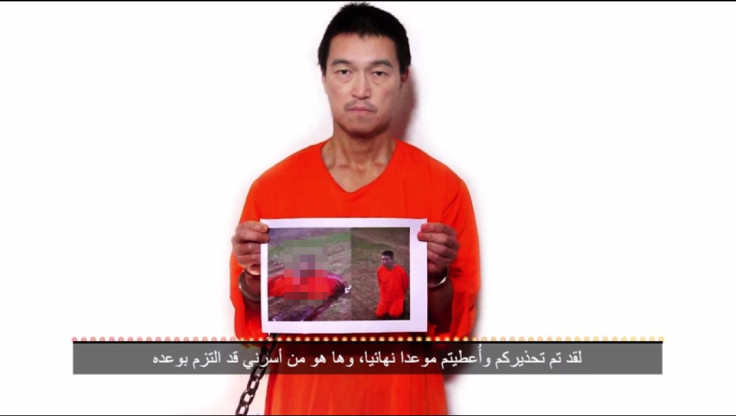 The Japanese government has condemned the brutal killing by Islamic State of one of two citizens.
Kenji Goto and Haruna Yukawa were held hostage by the terrorist organisation who demanded a $200m (£133.4m) ransom.
When the deadline for the ransom money passed, Islamic State released an audio video announcing the execution of Yukawa.
The video, which is nearly three minutes long, shows Japanese journalist Kenji Goto, 47, apparently holding a photograph showing the beheaded corpse of his fellow hostage, Haruna Yukawa.
Mr Goto is heard claiming that the 42-year-old private military company operator had been killed. He further states that the ransom has been replaced with a demand for a prisoner exchange for Mr Goto. The extremist group has demanded that a female suicide bomber is freed from detention in Jordan.
Speaking in English Mr. Goto blamed Mr Abe for Mr Yukawa's death, and told his wife and family not to give up on him
In a televised statement, Prime Minister Shinzo Abe described the beheading as "an outrageous and unforgivable act. We strongly demand the prompt release of the remaining hostage. I have a strong sense of anger," he added before reiterating that Japan "will not give in to terrorism."
Mr Abe said his government would spare no effort to secure the release of the remaining captive.
The hostages had earlier appeared in videos wearing the same orange jumpsuits as those worn by captives in previous IS videos.
The mother of Mr Goto has pleaded with militants to spare her son's life. Junko Ishido said he is a friend of Islam who devoted his life to helping children in war zones.
Mr Yukawa was seized by militants in August, after he went to Syria in what he described as a plan to launch a security company.
Mr Goto, a veteran war correspondent, went into Syria in late October seeking to secure Mr Yukawa's release.
© Copyright IBTimes 2023. All rights reserved.