Japanese Emperor Akihito on Monday (2 January) addressed tens of thousands of people from all over the country as he delivered his traditional New Year speech from the Imperial Palace. This is believed to be his last appearance as ruler as the octogenarian Akihito considers abdicating the throne on health grounds.
"At the start of this year, I wish for happiness and tranquillity of people in the world and our country," the emperor said in a televised address from a glass-covered balcony at the palace, accompanied by Empress and some other members of the family.
The Imperial Palace reported that at least 58,600 were present during Akihito's speech, while waving small Japanese flags and shouting "Banzai" or "Long live".
Reports suggested that the New Year's Day speech by the emperor was his first address since he announced his possible retirement in August 2016. He had said that due to his advancing age and weakening health he might no longer be able to carry out his duties, hinting towards an historic abdication.
Since there is no legal provision for abdicating from the Chrysanthemum Throne in Japan, any change to the Imperial Household law should be approved by the parliament.
According to recent polls, departure of Akihito, which would see him replaced by his eldest son Crown Prince Naruhito, seems to have the public support. A survey carried out by Kyodo News agency in August showed that 85.7% of the 1,000 respondents were in favour of Akihito's move.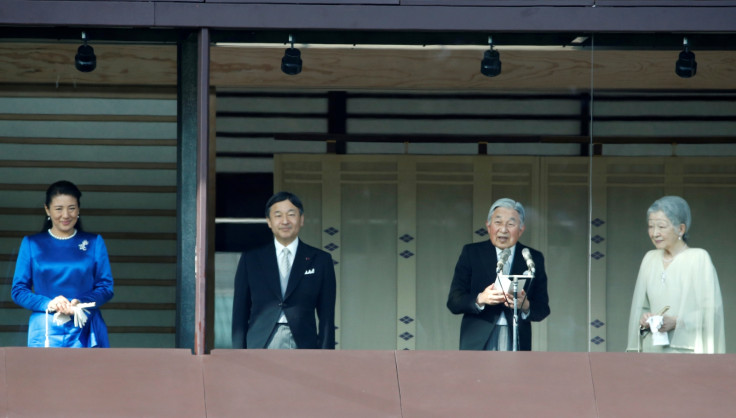 Akihito has had surgery for prostate cancer and heart problems; however, in his August speech he said he was currently enjoying good health.
If he steps down as emperor, it would be the first abdication from the Chrysanthemum Throne in two centuries.