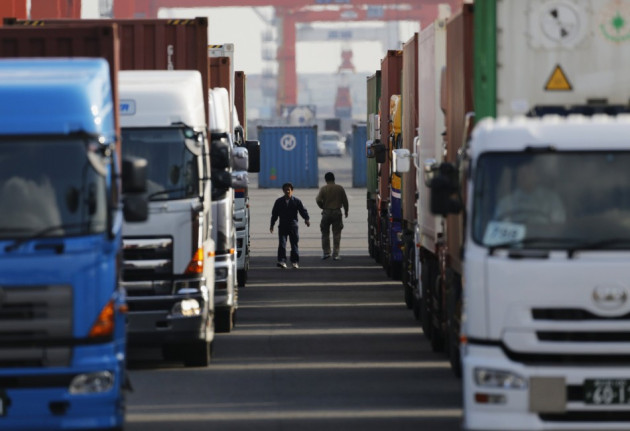 Japan's economy is on track to achieve 2.5 percent real GDP growth in the fiscal year starting April 2013, forecasts the country's Cabinet Office, spurring optimism that the government's aggressive stimulus measures will boost growth. Japan's posted one percent growth in the current year.
The growth estimates issued by the Cabinet Office every summer is considered as a base for the country's budget. The upbeat forecast could allow the government more room when considering the next budget, a draft of it expected to be approved as early as this week. According to a Dow Jones report that cited Japanese media, the ruling parties and the government have agreed on a proposal for a 92.61tn yen budget ($1.02tn, £647bn).
"Overseas risk factors have been easing. Of course, downside risks are not completely gone," said Economics Minister Akira Amari, in a news conference.
"Japan is compiling its growth strategy following the emergency stimulus steps... I think Japan will be able to achieve the growth forecast if the strategy is implemented rapidly."
The government's estimates are somewhat similar to Bank of Japan's forecast made in the previous week. It is more than an estimate of 1.8 percent made by a Reuters poll of economists.
Japanese economy has remained exceptionally weak in the recent times as lackluster global demand and frustratingly low inflation levels hurt growth. The country's newly elected government, led by Shinzo Abe who advocates aggressive stimulus measures to boost growth, has promised steps to turn the economy around. This month the government approved a 10.3 trillion yen ($114.4 billion) stimulus package and pressured Bank of Japan to raise inflation targets to 2 percent and take up open ended asset purchase.
The Cabinet has also forecasted that consumer prices could pick up 0.5 percent in the coming fiscal year. Japan's inflation rates slipped annually for the fourth straight year in 2012. The government expects the nominal gross domestic product to remain at 2.7 percent.
The stimulus measures have prompted analysts suggest that Japan could be on track to recover from its fifth technical recession in about 15 years. This bullish view on the economy is mostly supported by global economic optimism and the yen's extended low runs against the dollar, which is helping export oriented firms.
"Exports are expected to grow as the global economy is likely to recover moderately, which would help corporate activity. The government measures will also help capital spending," Reuters quoted an official from the Cabinet Office.
"Also, employment is likely to increase, helped by the economic measures, which would boost private consumption."