Japan issues first same-sex partner certificate but marriage still illegal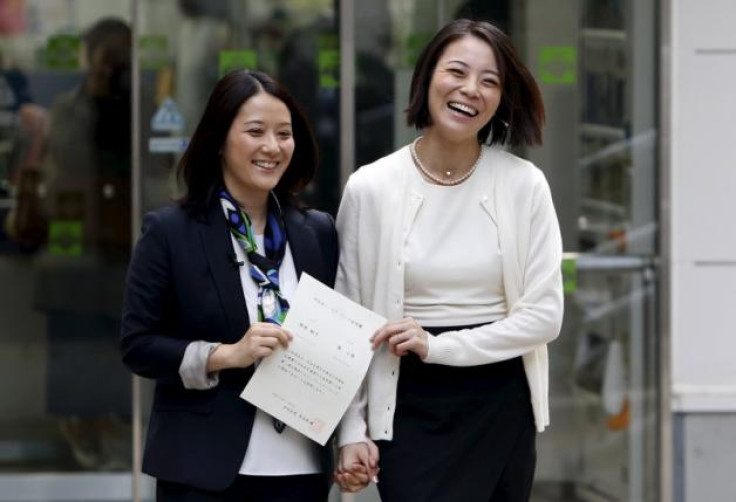 Two districts of Japan's capital Tokyo have started issuing certificates recognising same-sex partnerships, although same-sex marriage has not been legalised in Japan. The document will endow such couples with a variety of benefits, including renting an apartment together and gaining access to family-only hospitals.
Hiroko Masuhara and Koyuki Higashi who belong to the rich Shibuya district in Tokyo were handed the certificate on Thursday (5 November). The district assembly in Tokyo had become the first in Japan on 31 March to recognise LGBT (Lesbian, Gay, Bisexual, Transgender) partnerships. However, these certificates are not legally binding as they do not provide the same legal status as marriage.
"I am exhilarated that the city I am living in has recognized my partner as my family," Masuhara told Reuters after receiving the certificate. Her partner Higashi said she still hadn't abandoned a dream of one day getting legally married. "I hope that this will be a step forward not only for Tokyo but for the whole of Japan to become a more comfortable place to live in, because there are LGBTs nationwide," she said.
Japanese culture has been slow to embrace LGBT issues. Although many of Japan's younger citizens support LGBT rights, Prime Minister Shinzo Abe has expressed his reluctance to legalise same-sex marriage, saying it would be difficult to revise the country's constitution, which states: "Marriage shall be based only on the mutual consent of both sexes."
Same-sex sexual activity was de-criminalised and legalised in 1880 after the installation of the Napoleonic Code and the age of consent is currently equalised. However, such couples and households headed by same-sex couples are ineligible for legal protections available to opposite-sex couples.
On 27 March 2009, Japan started permitting its nationals to marry same-sex foreign partners in countries where such marriages are legal. While the Equal Opportunity Law has been revised several times over the years to address sex discrimination and harassment in the workplace, the government has refused to expand the law to address discrimination against gender or sexual identity.
A case for demographics
Japan already has one of the highest grey populations (over 65 years old) in the world with 25.8% as recorded in 2014 by the health ministry. This percentage is expected to increase to 38% by 2055. More shockingly only 13.2% of the population is between the age group 0-14 years.
Many conservatives feel legalising same-sex marriages will only pull down the young population rates with even fewer childbirths. This will substantially effect the already diminishing working population. According to a 2010 report in The Economist, the working-age population in Japan will shrink so quickly that by 2050 it will be smaller than it was in 1950, and four out of 10 Japanese will be over 65.
© Copyright IBTimes 2023. All rights reserved.