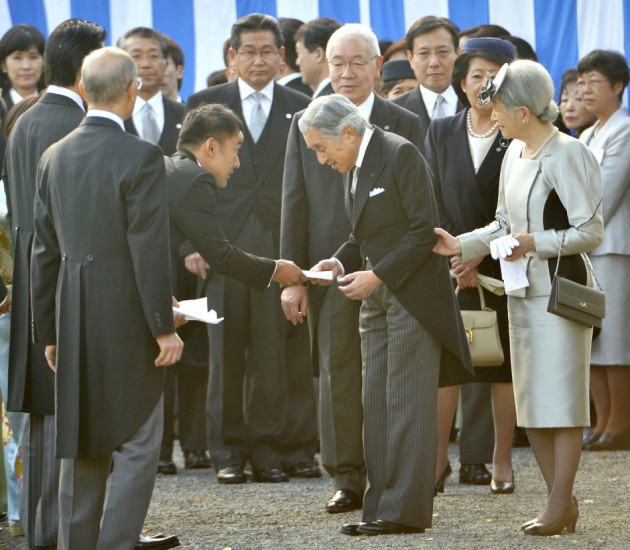 The simple delivery of a letter to Emperor Akihito has cost a Japanese lawmaker a public reprimand and a ban from attending any future event at the presence of the 79-year-old figurehead.
Taro Yamamoto caused uproar in Japan by handing the emperor the handwritten missive regarding the Fukushima nuclear disaster during a reception in Tokyo.
Yamamoto reached out to Akihito and handed him the letter as the emperor and his consort were greeting a line of guests.
The delivery, made at the annual autumn garden party hosted by Akihito and Empress Michiko at the Akasaka Palace imperial garden, was considered impolite and inappropriate and prompted Japan's upper house to take action against the MP.
"Always keep in mind that you are a lawmaker and do nothing to dirty the name of the Diet [Japan's parliament]," the warning read.
In Japan it is considered taboo to involve the emperor, who fills a purely ceremonial role, in matters of political nature. Reaching out to the emperor in an unscripted act is also considered deeply ill-mannered.
Akihito kept his composure, briefly talking with Yamamoto under the worried eyes of the empress before taking the letter and swiftly handing it to the chief steward, footage aired on television showed.
Yamamoto, 38, was summoned by Upper House president Masaaki Yamazaki, reprimanded and barred from future palace events.
No touching, no talking freely... and no mobile phones
Japanese emperors were considered godlike until Akihito's father, Emperor Hirohito, renounced his divinity following defeat in World War II.
However protocol rules on how to behave in the emperor's presence remain very strict. People are not supposed to talk freely to him, touch him or hand him something without permission and even picturing him with a mobile phone is considered impolite.
Yamamoto has apologised but refused calls to step down, saying he only wanted the emperor to know the truth about health risks for Fukushima's residents and workers cleaning up the power plant after the 2011 nuclear disaster.
"My behaviour was indiscreet for a place like the garden party," Yamamoto said. "I just wanted the emperor to know the reality. I was frustrated by not being able to achieve any of my campaign promises yet."