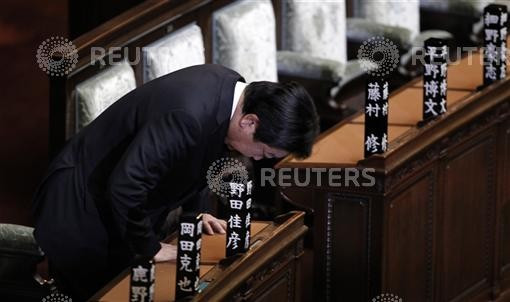 On 18 March 2011, I bought a copy of the Daily Star newspaper. A photo in the bottom right-hand corner caught my eye at first and then the paper's headline. The photo showed two small children sitting on a railway line, warmly dressed against the cold with the little girl at least holding a school satchel on her back.
Headlined "Lost Kids. Class of 30 quake children whose mums will NEVER come for them", the article went on:
"A group of children became the heartbreaking symbol of Japan's earthquake and tsunami horror yesterday.
"The 30 youngsters sat silently in their classroom almost a week after the disaster still waiting for their parents to collect them.
"Unaware of the scale....."
For all the horrifying film footage of the earthquake and tsunami's devastation that I had viewed since the 11 March 2011, having at one time been a teacher of young children, this small photo brought the tragedy to light in a more stark, almost personal manner and in a way that the statistics of the event never could.
A year on and the underlying emotional effects of the calamity are still very raw to the Japanese and particularly those people of Tohoku who witnessed events and/or suffered loss of family or friends. Hardly unexpected, but
Richard Lloyd Parry writing in The Times on 10 March 2012 has uncovered something more disturbing and sinister:
"One year on from the Japanese disaster, disturbances - whether paranormal or psychological - continue to haunt those who were left behind in their grief."
Mr Parry goes on to describe how 36-year-old building contractor, Takeshi Ono was apparently possessed, acting at times "like a wild animal" and seeing people no-one else could see. After two days like this, his family took him to the local Buddhist priest who performed a successful exorcism.
Mr Ono is by no means unique, Mr Parry found that "Victims of the disaster and those who simply witnessed its aftermath have reported the presence of ghosts and spirits and in some cases have called on priests...to drive them away."
The priest in Mr Ono's case was the Rev Taiou Kaneda who told Mr Parry: "The grief was so profound and it happened so suddenly, they couldn't understand or accept what had happened to them." And Japanese from the country's Christian community have reported like phenomena.
Tohoku's magnitude 9.0 quake struck at 2.46pm on the afternoon of 11 March 2011 and was followed at around 3.25pm by a tsunami which swept over 200 miles of the coast of northern Honshu, Japan's main island.
In places the giant wave reached a height of 125 feet and at the Fukushima 1 Dai-ichi nuclear power plant exceeded 40 feet, more than double the height of the power station's protective sea-wall.
Nearly 20,000 people died in the disaster, over 3,200 of whose bodies have never been recovered.
One hundred and thirty thousand properties were destroyed leaving 344,000 homeless who had to be accommodated in schools, gymnasiums, temples, community centres and the like.
Very few of those dispossessed have been able to rebuild their homes and most still remain in temporary accommodation, whether rented or staying with family, friends, some even in makeshift "containers".
Many have been dispersed around the country in places far from home. Those who find themselves in Japan's great cities will, no doubt, find life unsettling, the Tohoku area having but few large towns and the homeless in the main coming from relatively small communities.
Writes Mr Parry: "Having solved the immediate problems of providing the refugees with food, shelter and medical care, the struggle is on (after a year) to prevent a much less visible but still devastating secondary disaster of depression, chronic anxiety and suicide."
He goes on to quote from a Government survey published earlier this month which covers the stricken prefectures of Miyagi and Iwate, indicating that a startling 40 per cent of survivors suffer from sleeplessness, 22 per cent have symptoms of depression and there are noticeable increases in conditions like high blood pressure and problems with alcohol.
With trust in Government and politicians at an all-time low and some of the largest companies badly tainted with scandal, there is still one authority in Japan that commands universal loyalty and respect:
On Sunday 11 March 2012, at 2.46 pm, Emperor Akihito and Empress Michiko lead the nation in mourning at a memorial service for the disaster victims in central Tokyo.