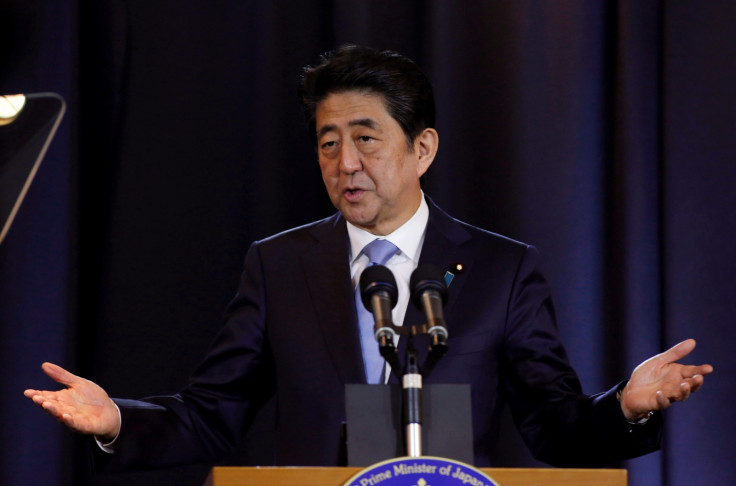 Japanese Prime Minister Shinzo Abe has called on British and European officials to prioritise "a smooth and transparent" Brexit process so as to avoid disrupting businesses.
Prime Minister Theresa May officially began the two-year process of the UK's withdrawal from the EU in March.
After holding talks with May at Chequers on 28 April, Abe warned that overnight changes in regulations due to Brexit would be bad for business.
The UK is the second-most important destination for Japanese investment after the United States.
"When the UK leaves the EU, if the rules change overnight, there will be a concern about a possible confusion arising," Abe was quoted as saying by Reuters.
"Japan supports a strong UK and a strong Europe. It is necessary that the firm solidarity of Europe as a whole is maintained while ensuring a smooth and successful Brexit."
Japan warned last year that its major companies could shift their bases from Britain to mainland Europe as a result of Brexit.
Japanese firms employ around 140,000 workers across Britain, with Japanese carmakers accounting for around half of the total number of cars made in the country.
Brexit talks between London and Brussels are due to begin after the UK general election on 8 June.
European Council President Donald Tusk has called for the rights of EU citizens living in the UK to be settled in the first phase of Brexit talks.
"Over the past weeks, we have repeatedly heard from our British friends, also during my visit in London, that they are ready to agree on this issue quickly," he was reported as saying by the BBC.
"But I would like to state very clearly that we need real guarantees for our people to live, work and study in the UK."
French President Francois Hollande said Britain would have to pay "a price and a cost" for its decision to leave the EU.
"We must not be punitive, but at the same time it's clear that Europe knows how to defend its interests, and that Britain will have a weaker position in the future outside Europe, than it has today within Europe," he was reported as saying.