Liberal Democrats leader Tim Farron is confident his party can "change the course of history" and replace Labour as the opposition to the Conservatives at the upcoming general election.
The 46-year-old compared the 8 June vote to that of the recent French presidential election, where the country's two main parties Republican and Socialist came third and fifth respectively.
He believes that such a shock could have a ripple effect during such "unpredictable times".
"I'm aware that a week ago the two main parties in France came third and fifth. These are times when politics, in the Western hemisphere at least, has never been more unpredictable."
Farron urged voters to help him make "British political history" to help thwart the "calamity" that Brexit poses.
"This is also an election where Theresa May has chosen not to get a mandate, she doesn't need a mandate. It is an election, nonetheless, that could absolutely change course of British political history.
"If you want to prevent the calamity of a hard Brexit, you have one option – and it is the Liberal Democrats, and you need to take it."
Farron had more stern words for May, making the claim that she was calculating a "colossal coronation" following the election, due to his belief that Labour has "given up" on opposing the Conservatives.
"The prime minister is heading for a colossal coronation on 8 June. She expects the British people to turn up in their Sunday best and wave the flag – that is not how a democracy works.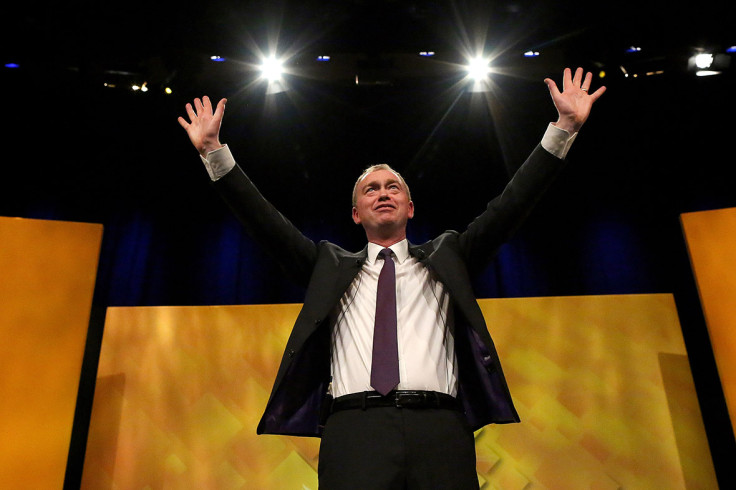 "We are determined to turn the coronation she expects into a contest that Britain desperately needs.
"We are not walking away. Labour have given up on opposing. Britain desperately needs a strong opposition for the sake of democracy and we are determined to provide it."
Farron, a Christian, has faced pressure over his refusal to confirm or deny whether he believes gay sex is a sin, but he chose to dodge the issue once again to instead reaffirm the problem of remaining in the single market.
He claimed he is a "Eurosceptic", but someone who thinks Britain is better of in the EU, but fears the country could fall "over the cliff of a hard Brexit" due to a potential "blanket of blue" on 8 June.