Prime Minister Theresa May was forced to fight back against the notion that Conservatives' repeated promises of providing "strong and stable leadership" during the general election campaign is a "robotic" message.
The slogan has been used 25 times in the Commons in 10 days, 16 times during Prime Minister's Question Time on 26 April, and 12 times by May in one recent speech.
Speaking to Andrew Marr, the former home secretary stressed the importance of ensuring she had a "strong hand" in Brexit negotiations, a point she has made on numerous occasions, but said the principle was crucial in "a moment of change".
"As we go through this election, every party will be talking about what they think is important. I will be talking about a strong and stable leadership," she said, after Marr predicted she would use the words before she said them herself.
"There is a reason for talking about a strong and stable leadership and having a strong and stable government. It's precisely, because this is the most important election the country has faced in my lifetime," said May.
"It's about the future of the country. It's about the national interest.
"We are facing a moment of change in this country – a moment when we have the opportunity to make it a better place for people to live. Part of doing that is getting the Brexit negotiations right."
Following a meeting with EU Commission President Jean-Claude Juncker earlier this week, which was alleged to have gone badly, May was accused of "living in a different galaxy" by the EU leader and claimed that no deal would be a more likely outcome of Brexit negotiations than finding an agreement.
May admitted that negotiations "are going to be very tough", but stood by her belief that the UK would clinch a trade deal after being given assurances by the EU's trade commissioner.
However, she refused to offer hope to EU citizens living in the UK over whether they will be able to stay in their homes, instead moving to prioritise UK citizens living abroad before anything else.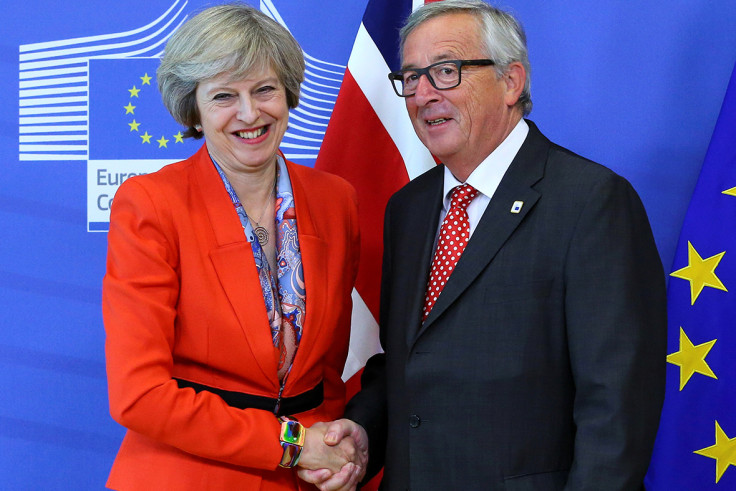 "I believe as United Kingdom prime minister it is important that I have a care for the UK citizens who are currently living in the 27 remaining countries of the European Union," said May.
"I want to be able to guarantee EU citizens living here their rights and status, but I think it is important that we ensure UK citizens living in Europe are guaranteed their rights and status as well.
"There is goodwill there, I believe we can give that reassurance to people at an early stage."
May, who describes herself as a Christian, also offered a simple "no" answer when asked if she thought gay sex was a sin. The question was asked after Tim Farron, who also says he is a Christian, repeatedly dodged answering similar questions from reporters about his views on homosexuality.