Japan's Prime Minister Shinzō Abe honoured the victims of the Boston Marathon bombing along with his wife on 27 April. Abe arrived in Boston on 26 April for his first stop during a US tour that also includes visits to Washington DC, Los Angeles and San Francisco.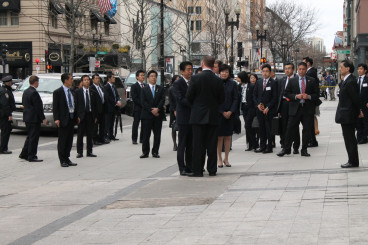 Upon arriving in Boston, Abe visited the John F Kennedy Presidential Library and attended a dinner hosted by Secretary of State John Kerry, the Associated Press reported.
Early on Monday, the prime minister and his wife Akie Abe placed a flower wreath near the finish line of the Boston Marathon to honour the victims of the 2013 bombing. The two spoke briefly to Boston Mayor Martin Walsh, before departing with their entourage.
According to the AP, he is scheduled to speak at Harvard's Kennedy School of Government before heading to the capitol on Tuesday. There, Abe will become the first Japanese leader to address a joint session of Congress.
Abe is set to sign updated defence co-operation guidelines with President Barack Obama, NPR reported. The updates will call for greater role for the Japanese military as threats from North Korea and China continue to grow.
"This is an important moment in US-Japan relations," William Grimes, a Boston University professor and associate dean of academic affairs at the Frederick S. Pardee School of Global Studies, told IBTimes UK. "The Asia-Pacific looks increasingly likely to shift to a new bipolar system, and the US-Japan alliance will be a lynchpin if the decision is made to try to contain China."
The 60-year-old will also use his visit to Washington to improve Japan's image and his country's role among the world's leading powers, especially in regards to the Trans-Pacific Partnership trade deal. "[The] TPP offers the possibility of substantially revising the Japanese economic system, which has been moribund and debt-ridden for years," Grimes explained.
Woodrow Wilson Center's Asia specialist Shihoko Goto told NPR that Japan's image is a top priority for Abe's administration. "He's very charismatic...he has a very charming wife and so she will be a great asset to him at the public events," Goto said. "The White House is really going out full force to roll out the red carpet for him."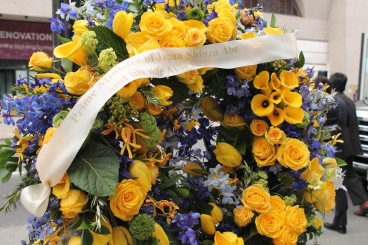 Grimes added that the trip is equally important to the Obama administration. "It is also convenient to the Obama administration that support for strong US-Japan relations is increasingly bipartisan, so that the president can make common cause with many Congressional Republicans," he said.
The AP reported that Abe's visit has been met by some protesters, who have called on the prime minister to apologize for crimes committed during World War II. He will have to use his speech to Congress to address those issues, among other topics.
Twenty-five US politicians have asked Abe "to formally reaffirm and validate" apologies previously made by his predecessors, noted the AP.
Columbia University political professor Gerald Curtis told NPR, "It's an opportunity to celebrate the success of Japanese post-war democracy and diplomacy, and the US-Japan alliance. But he has to deal with this history issue so that it doesn't completely...drive attention away from really what's most important, which is where we go from now on."