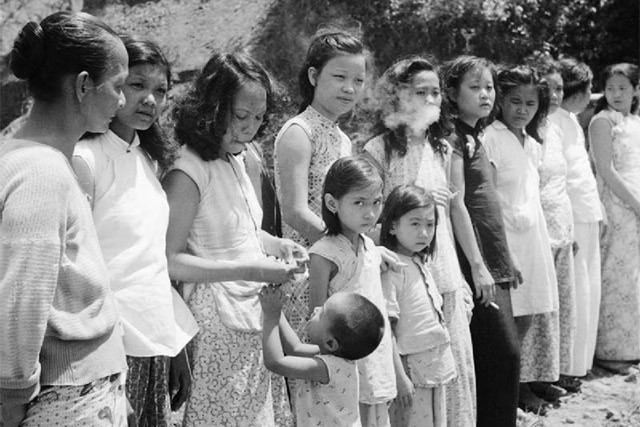 Japan has rejected a call by the UN's human rights watchdog that it should accept full blame for pressing Asian women into wartime sexual slavery in military brothels, in what was clearly the largest case of human trafficking in the 20th century.
The Japanese foreign ministry said the UN committee was expected to adhere to the International Covenant on Civil and Political Rights, which Tokyo ratified in 1979. The covenant, it said, could not be applied to issues pre-dating 1979.
Some historians estimate that as many as 200,000 'comfort women' -- many from China, Indonesia, Malaysia, Taiwan and South Korea -- were forced to provide sex for Japanese soldiers in "comfort stations" before and during World War II.
Advertisements like 'Comfort Women Wanted' found in wartime newspapers talk of a failed attempt at attracting volunteers into prostitution. Instead, young women as young as 11 were kidnapped and forced into service at the military camps where they were raped, tortured and subjected to extreme violence.
Some of them are alive today.
"Most were teenagers... and were raped by between 10 to 100 soldiers a day at military rape camps," artist Chang-Jin Lee states on her website. By some estimates only 25 to 30% survived the ordeal.
Tokyo had issued a landmark apology in 1993 called the Kono statement that officially acknowledged the Japanese military used coercion in operating the brothel system but did not admit the government's complicity. But the political right, including Prime Minister Shinzo Abe, continue to cast doubt on the Kono statement, claiming the brothels were staffed by professional prostitutes.
Japan recently conducted a review of the issue and asserted there was no evidence to corroborate interviewed comfort women's testimony on sexual slavery, sparking regional anger.
Japan had offered to compensate former comfort women through a private fund set up in 1995 that lasted until 2007. But many of the survivors shunned the cash as it did not come directly from the government. South Korea had also rejected the fund as it was not official.
China and South Korea have accused Japan of refusing to face up to its history.
The UN Human Rights Committee had said that all reparation claims brought by victims before Japanese courts have been dismissed. All complaints seeking criminal investigations and prosecutions have been rejected on grounds of the statute of limitations.
The panel urged Japan to ensure that all allegations of human rights violations against the 'comfort women', are effectively, independently and impartially investigated and that perpetrators, if found guilty be prosecuted.
The panel saw a contradiction in Japan's position when it says the comfort women were generally recruited and transported through coercion, but they were not "forcibly deported".