Japan air force scrambled fighter jets to shadow Beijing's movement in the disputed islets in the East China Sea on Thursday (18 May) after four Chinese coastguard vessels entered contested waters administered by Japan. An apparent drone was reportedly seen flying above one of the vessels.
Japan Air-Self Defense Force scrambled two F-15 fighter jets, one E-2C early warning aircraft and an AWACS surveillance plane in response to the deployment of a drone-like object in the island that China calls as Diaoyu and Japan as Senkaku.
It is thought to be the first time Japan has scrambled jets in the region in response to a drone.
The face-off is said to be another sign that Japan is on high alert over China's growing military assertiveness in the disputed territories and farther into the Pacific. Japan controls an island chain in the East China Sea that stretches 1,400km south towards Taiwan. The contested Senkaku Island is controlled by Tokyo, but Beijing has laid claims on it.
Japan has strongly protested the recent Chinese incursion. Chief Cabinet Secretary Yoshihide Suga said the drone flight is "a new type of action by China. We have sternly protested [to China] that it is utterly unacceptable".
The Chinese vessels were reportedly equipped with guns, Kyodo news agency cited Japan Coast Guard as saying. The Chinese ships were ordered to leave the waters but they left the waters only after two hours, according to Japanese media reports. The drone-like aircraft was seen flying for about four minutes west of northwest of the Senkaku.
"This is escalating the situation and absolutely unacceptable," Defence Minister Tomomi Inada said in a separate news conference on Friday (19 May). "We regard this as a serious infringement of Japan's sovereignty."
The case constituted "airspace incursion" for Japan, Inada added.
China, however, rubbished reports that drone was deployed by the coast guard. Foreign Ministry spokeswoman Hua Chunying said the drone was sent by "relevant media" for aerial photography and that it had nothing to with the vessel. She did not name the media company.
"This is not a military action as has been hyped up by some media," she said during a daily news briefing.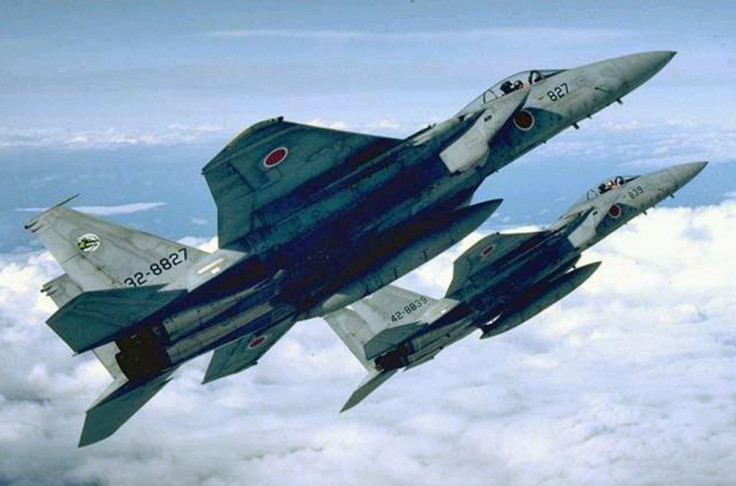 Hua added that the islands are part of the mainland and that China has every right to sail in the waters. "As for the so-called representations or protest by the Japanese side, of course we can't accept it."
Tokyo has responded to Chinese intrusion in the contested waters some 13 times since the start of this year, Reuters cited Japan's coastguard as saying.
The Shinzo Abe government's figures released earlier in April, showed Japan's Air Self Defence Force scrambled its fighter jets 1,168 times over the past 12 months - up from 873 in 2016 - to chase away Chinese and other foreign aircrafts.
A record number of 851 jets were dispatched to intercept the approaching Chinese planes, which was again 280 more instances compared to the corresponding period last year.