China is reported to have secretly armed a disputed reef in the South China Sea with rocket launchers, in a bid to fend off Vietnamese intrusions in the region, according to Chinese media reports.
The report, published on the WeChat account of the state-run Defence Times newspaper on Tuesday (16 May), said Beijing installed Norinco CS/AR-1 55mm anti-frogman rocket launcher defence systems on Fiery Cross Reef in the Spratly Islands.
The defence system has the capability to discover, identify and attack enemy combat divers, Reuters noted.
However, the report did not reveal when the rocket launchers were deployed. The deployment is reported to have come in response to Vietnamese installation of a large number of fishing nets in the nearby Paracel Islands in 2014.
The latest report about China's ongoing military build-up comes just days after Hanoi and Beijing vowed to keep the South China Sea tensions in check to maintain peace in the region.
Both the sides agreed to "manage and properly control maritime disputes, not take any actions to complicate the situation or expand the dispute, and maintain peace and stability in the South China Sea", a joint communiqué, released by China on 15 May said.
China has always defended its military aggressiveness on the islands that Beijing claims it controls in the hotly contested waterway. It argued that it can do whatever it wants on its own territory, and that the constructions will be limited to essential defensive requirements.
Earlier in March, the Asia Maritime Transparency Initiative (AMTI), which is part of the Centre for Strategic and International Studies, said China had almost completed constructions in least three of its largest man-made islands in the Spratly groups. The facilities would allow Beijing to deploy about 24 fighter jets and four larger planes, including refuelling or bomber aircraft, to the area at any time. The country has also built hardened shelters with retractable roofs for mobile missile launchers on the islands.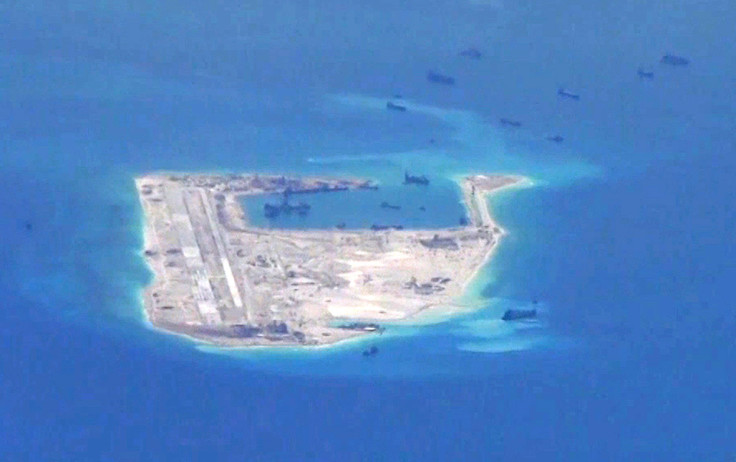 Besides, China has maintained HQ-9 surface-to-air missile systems on Woody Island for more than a year. It is thought to have also deployed anti-ship cruise missiles to the island at least once in the past, according to the Japan Times. Vietnam lambasted China for this and called the move a serious infringement of its sovereignty over the islets.
China has conducted extensive land reclamation work at Fiery Cross Reef, which is also claimed by the Philippines, Vietnam and Taiwan.
The US has been accusing China of bolstering its military capabilities in the South China Sea to reinforce effective control of much of the waterway. More than $5tn of world trade passes through the sea each year.